Banksy releases 'Director's Cut' VIDEO of auction shredding stunt, says mechanism malfunctioned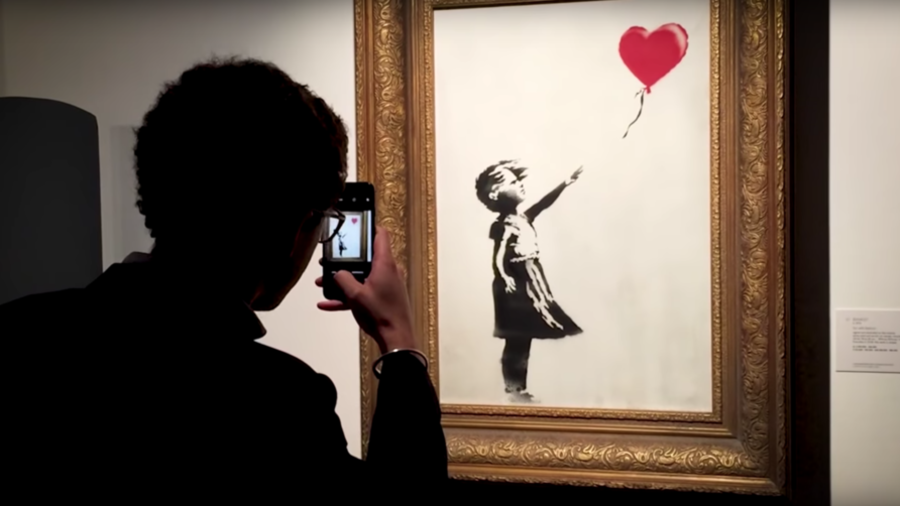 Banksy has offered more proof that the partial shredding of his work 'Girl with a Balloon,' which fetched a record sum at Sotheby's, was not staged, explaining that the mechanism must have malfunctioned during the creative stunt.
"Some people think it didn't really shred. It did. Some people think the auction house were in on it, they weren't," the anonymous British artist wrote on his Instagram, after posting a YouTube video of the moment a remote control button was pressed to activate the destruction mechanism he built inside his masterpiece more than a decade ago.
'We've been Banksy'd!' Balloon girl self-destructs on fetching $1.3mn at Sotheby's auction (VIDEOS)
After the 'Girl with a Balloon' delivered the £860,000 ($1.1mn) winning bid at a Contemporary Art Evening Auction at Sotheby's London on October 5, the spray paint and acrylic on canvas illustration suddenly partially self-destructed. The spectacular stunt left many in the art world wondering if such a creative art heist could increase the masterpiece's value and if the reputable auction house was behind the performance to generate even more interest in Banksy.
The street artist repeatedly made it clear that he remains strongly opposed to the commercialization of his work. To prove that the sensation at Sotheby's wasn't staged, Banksy posted a video on Wednesday mocking the hype that his works stir up in the auction world.
After offering more details about the shredding mechanism inside the frame he had built in 2006 when he created the 'Girl with a Balloon', Banksy then showed footage of a snobby, lavishly dressed crowd mingling at Sotheby's and taking a keen interest in the artist's work, the highlight of the sale.
Some two minutes into the 'Shred the Love' video a man wearing a dark sweatshirt is seen pressing a remote control button to begin destruction of the painting. Partial shredding of the masterpiece is shown, as auctioneers rushed to take the work off the wall and out of the room.
Concluding Sotheby's section, Banksy said, "In rehearsals it worked every time", before finishing his 'the director's cut' video with a clip showing the [copy] 'Girl with a Balloon' fully liquidating itself to pieces during a trial run, presumably back in 2006.
Banksy, who does not like his paintings to be sold to the highest bidder, presented his creation in a custom-built frame to the previous owner in 2006 following the artist's warehouse show, Barely Legal, in Los Angeles. Now, an anonymous European collector is a proud owner of Banksy's shreds, which the buyer hopes might cost even more after the partial destruction.
'Urge to destroy is also a creative urge': Banksy shares details of auction shredding prank (VIDEO)
If you like this story, share it with a friend!
You can share this story on social media: