'We've been Banksy'd!' Balloon girl self-destructs on fetching $1.3mn at Sotheby's auction (VIDEOS)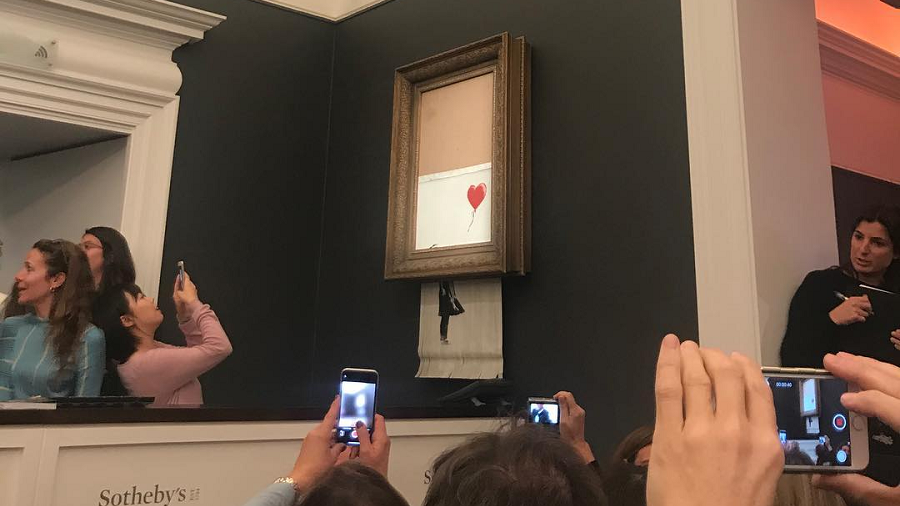 The elusive world-famous British street artist Banksy has reportedly pulled off one of the greatest art heists, allowing his own painting to self-destruct, just moments after 'Girl with a Balloon' had fetched over £1mn at auction.
Art lovers and collectors appeared shocked the moment Banksy's Girl with a Balloon shredded itself into ribbons immediately after hammering a record of £860,000 (£1.04mn or $1.37mn with buyer's premium) at a Contemporary Art Evening Auction at Sotheby's London on Friday.
The 101cm-by-78 cm canvas in an artist's frame, annihilated in front of the auctioneers by a mechanism apparently hidden within the base of the frame, with just strips left to admire from the 2006 masterpiece produced by the famous-yet-anonymous British artist.
Attendees at the event appeared to be in "complete confusion" the moment an "alarm inside the frame started going off as the gavel went down," Robert Casterline of Casterline Goodman gallery told Hyperallergic.
READ MORE: Kissing Trump & Netanyahu mural appears on West Bank wall
While some tried to figure out what just happened, others reportedly noticed an elusive man dressed in black sporting sunglasses and a hat "scuffling" with security guards immediately after the fiasco. This led some to speculate that Banksy might have personally carried out the stunt.
"We've just been Banksy'd," said Alex Branczik, senior director at Sotheby's, according to The Art Newspaper. "He is arguably the greatest British street artist, and tonight we saw a little piece of Banksy genius."
The unusual heist of the artwork is completely new for the art world and, while the piece was lost forever, the scraps and remnants could now be worth more than the original intact masterpiece itself. "You could argue that the work is now more valuable," Branczik said. "It's certainly the first piece to be spontaneously shredded as an auction ends."
The auction house is now trying to figure out what to do next. "We have talked with the successful purchaser who was surprised by the story. We are in discussion about next steps," Sotheby's said in a statement to the Financial Times.
READ MORE: Banksy lashes out at 'unauthorized' Moscow exhibition of his work
Girl with Balloon was one of the "most widely recognizable images" ever painted by the anonymous British icon. The spray paint and acrylic on canvas that was mounted on board depicted a small girl in black and white reaching out towards a red, heart-shaped balloon attached to a string. "Unlike the other editioned iterations of this famous motif, the present work is a rare unique painting that was given to the present owner by Banksy in 2006 following the artist's warehouse show, Barely Legal, in Los Angeles," Sotheby's said of the lot.
If you like this story, share it with a friend!
You can share this story on social media: