Banksy lashes out at 'unauthorized' Moscow exhibition of his work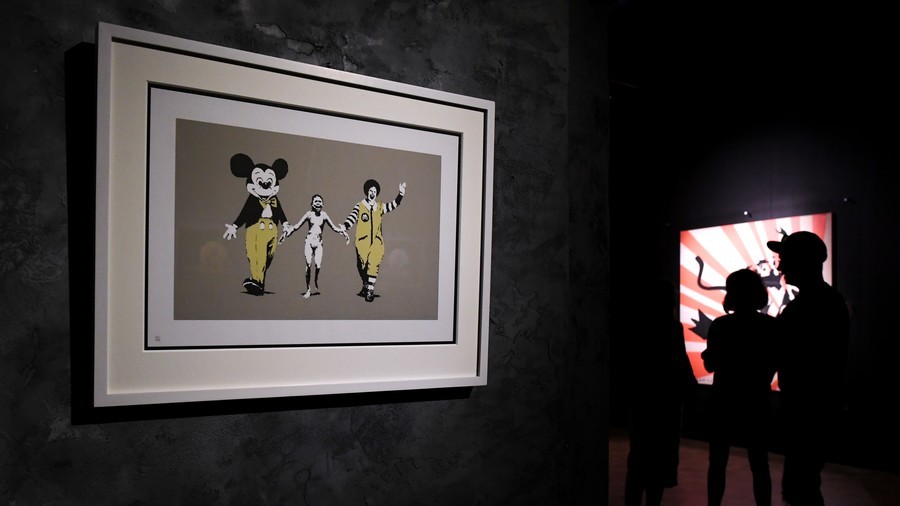 Famed street artist Banksy has weighed in on an 'unauthorized' art show of his work in Moscow, with the exhibition organizer insisting that the artist's Instagram commentary is an "ironic" nod at the exhibition's success.
The exhibition has attracted more than 200,000 visitors since opening on June 2 – but only now has Banksy decided to comment on the hugely popular show in the Russian capital.
The mysterious artist posted a screengrab of a conversation he had with a concerned fan to his Instagram account, expressing exasperation after being informed that two dozen original pieces – along with scores of prints – were being exhibited in the Russian capital.
In the brief exchange, the unidentified fan informs Banksy that the exhibition organizers are charging a £20 ($25) admission fee, and had made the art show "look kind of legit."
"You know it's got nothing to do with me right? I don't charge people to see my art unless there's a fairground wheel," Banksy replied.
Actually, the weekend ticket price of 650 rubles comes to less than £8 ($10). The price also includes an audio guide, which provides more than two hours of commentary about Banksy and his works.
"I think it's a very fair price. We were trying not to overprice the exhibition – it was very important to us," Alexander Nachkebiya, organizer and producer of the exhibition, told RT.
The price for the Banksy-endorsed "Dismaland" theme-park exhibition in England was £3 ($3.80), but Nachkebiya said that there were considerable financial and logistical hurdles involved with securing and transporting the artwork to Moscow.
For comparison, tickets for 'The Art of Banksy' exhibition that opened in June in Toronto are Can$35 – around £21 or $27.
Despite Banksy's apparent surprise at the Moscow exhibition, the artist apparently doesn't feel that he has sufficient moral high ground to condemn the event's organizers. "Not sure I'm the best person to complain about people putting up pictures without getting permission," he mused in the chat exchange.
Dozens of people who responded to Banksy's post accused the Moscow exhibitors of unethical behavior and theft – but others pointed out that the vast majority of Banksy art shows do not have the blessing of the anti-establishment artist. "Unauthorized" exhibitions have recently been held in Toronto, Berlin, Amsterdam and Tel Aviv.
Responding to online criticism, Nachkebiya said that Banksy never supports exhibitions that he's not directly involved in, and usually immediately issues press releases denouncing such events.
However, in this case, Banksy waited more than two months before weighing in – and chose to post a screengrab of a chat in which he concedes that he's not the best person to judge the merits of the exhibition.
"I think the fact that he did it in an ironic way, I think this is an acknowledgement of our success, and I think it's an acknowledgement that it was a big and important event, even in Banksy's career," Nachkebiya said.
The organizer added: "It is really funny when everyone asks me about confirmation with Banksy. I mean, how can you get confirmation from Banksy?"
Subscribe to RT newsletter to get stories the mainstream media won't tell you.