Kissing Trump & Netanyahu mural appears on West Bank wall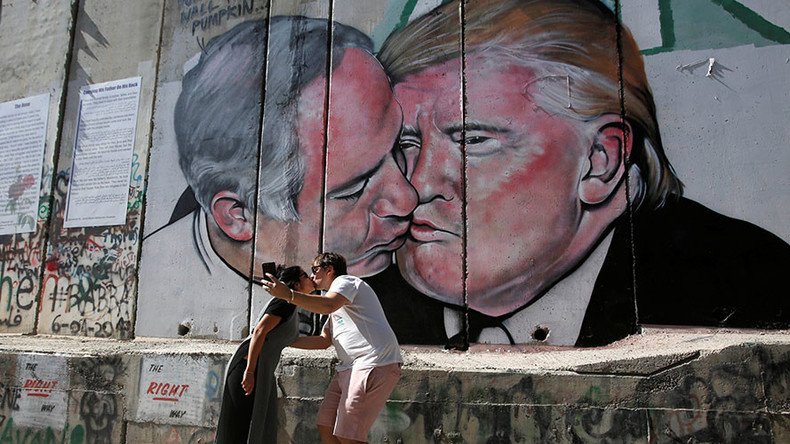 A mural of US President Donald Trump sharing a kiss with Israeli Prime Minister Benjamin Netanyahu has popped up on Israel's security barrier around the city of Bethlehem in the occupied West Bank.
Tourists were snapping selfies in front of the painting Sunday, mimicking the kiss of the US and Israeli leaders.
Australian street artist, known as, Lushsux, told Reuters, that by creating the artwork, he wanted to draw attention to Palestinians being stuck in "an indoor prison."
READ MORE: New Banksy? 'Yuge' anti-Trump murals appear on West Bank separation wall
The painting bears striking similarities with the famous work on the Berlin Wall by Russian artist Andrey Vrubel, who depicted the Fraternal Kiss of Soviet leader Leonid Brezhnev and his East German counterpart Erich Honecker.
Lushsux had previously decorated the separation barrier in Jerusalem with two other murals featuring Trump. One of the paintings shows the US President kissing an Israeli watchtower, while in the other, Trump is seen placing his hand on the barrier and musing: "I'm going to build you a brother," referring his plan to erect a wall on the US-Mexico border.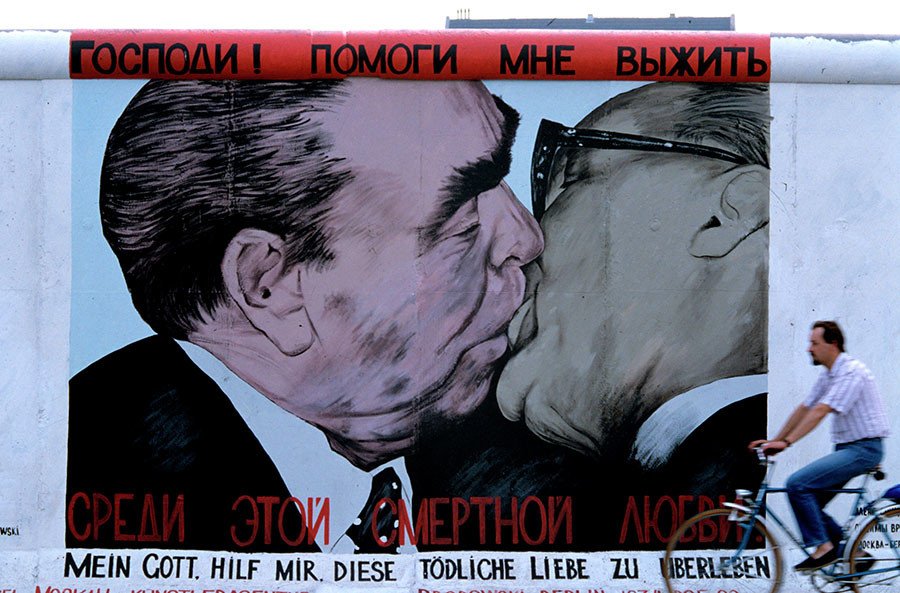 "The wall is a message in itself," the artist said. "I don't need to write 'Free Palestine' or something like that, something really direct... that people will ignore."
"I just paint what I usually paint and maybe people will start looking at the background and looking at the razor wire and looking at people stuck in here, and maybe that'll work better," Lushsux explained.
In September, US Ambassador to Israel, David Friedman, told the Jerusalem Post that Trump and Netanyahu have developed "phenomenal" relationship, with both being "decisive leaders."
READ MORE: Horny Trump's passionate embrace with Pope in Rome mural (PHOTOS)
"The chemistry is just excellent. It's fun to be with them… They're kind of talking like a couple of friends, and it's fun to be in the room with them because the conversations are really pleasant. They're funny. They're cordial," Friedman said.
Netanyahu, who had cold, sometimes bordering on hostile relations with Barack Obama, recently praised Trump for not certifying Iran's compliance with the nuclear deal, calling the move by the US president "courageous."
You can share this story on social media: