Exclusive promotion: German kindergarten ad boasts it has few immigrant children
A kindergarten in a wealthy borough of Hamburg promoted itself by boasting that only a few kids from immigrant families avail of their daycare services. The advert has not sat well with locals.
The Rabenhorst kindergarten in Hamburg had gone to great lengths to advertise its services. In a promotion brochure, they highlighted their location – a nice, wealthy district of Hamburg, surrounded by tall trees and cobbled streets.
The advantages of the kindergarten didn't stop there, however, and the brochure also included this: "Of families with migrant backgrounds, only a few take advantage of our care."
The advert came to light after two young parents contacted Hamburger Morgenpost newspaper to report the bizarre selling point that they had come across in the leaflet.
The paper published a screenshot from the brochure, in which the sentence was placed – by coincidence or not – next to a photo of a blonde, blue-eyed boy named Finn. "Why did they even mention that? Apparently they wanted to advertise that they have no migrant children in their groups," suggested one of the parents.
After the story made headlines in some of the local newspapers, the Rabenhorst backtracked on the controversial statement, saying that it had edited the infamous brochure that misled potential clientele.
The altered version now says the kindergarten stands for inclusion and "is open to girls and boys, small and tall, strong and weak, sick and healthy, fat and thin… no matter whether they're of German origin or from families with a migration background."
However, this wasn't the only part of the brochure that drew criticism in German media. It also bragged about the good financial standing of its clients, saying "a lot of our parents are self-employed, working as lawyers, doctors, organizational consultants, brokers, business owners."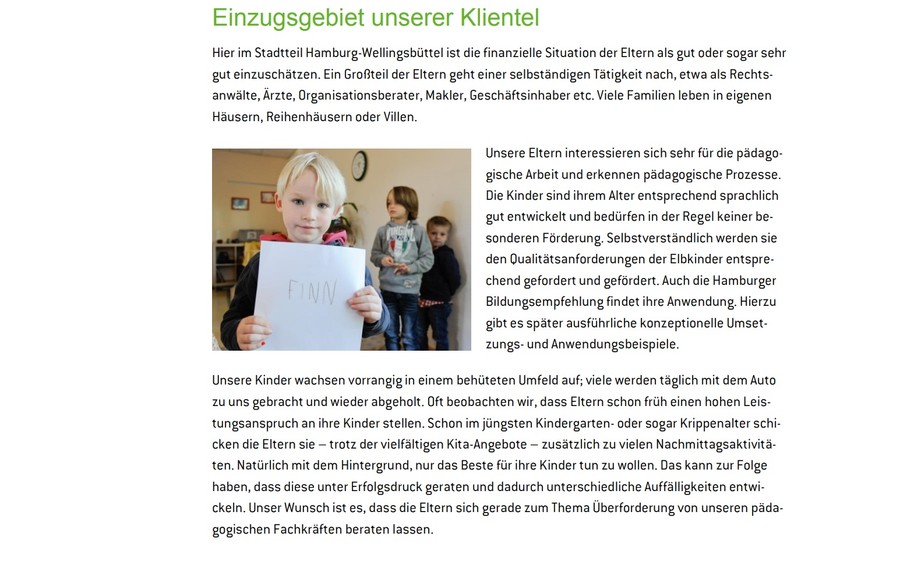 RT spoke to some ordinary Germans to find out if the advert had been well-received by locals. "As a mother, I would not accept it," said a woman in Berlin. "You should and you could use other ways to attract people."
"This is a wrong thing to do because if you don't know each other, you can't work and live together," a local man suggested. "Although parents favor multicultural society, when it comes to their children, they start paying attention to the proportion of natives in the schools and so forth," another woman said.
The latter issue came to light last year, when a mother in the city of Essen revealed that only two out of 25 children in her son's daycare group spoke German. "I can only speak for myself, it's a big problem in my city, but many people have written to me and I learned that it's a countrywide problem, not just regional," the woman told RT.
Think your friends would be interested? Share this story!