MPs too? Harassment of female lawmakers widespread in European parliaments, report claims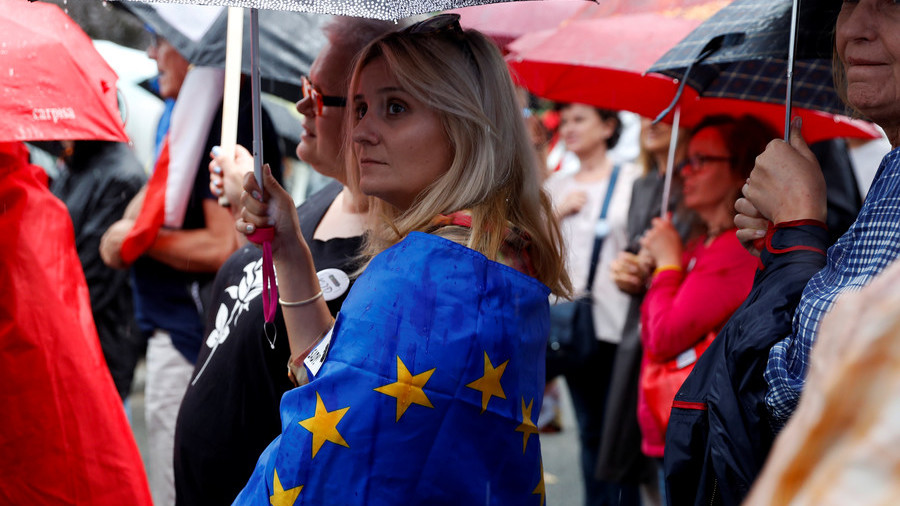 Psychological pressure, sexual harassment and violence against female MPs and staffers are widespread in parliaments all across Europe, according to a new report by a Council of Europe body.
A new study released on Tuesday by the Inter-Parliamentary Union (IPU) and the Parliamentary Assembly of the Council of Europe (PACE) claims a vast majority of women working as lawmakers or as parliamentary staff are subject to "acts of sexism, abuse and violence."
The report, based on anonymous testimonies of 123 women (81 MPs and 42 staff members) from 45 European countries, says it provides insight into the workplace culture in the continent's parliaments. Of all women interviewed, 47 percent said they had received threats of death, rape or beating.
Roughly two-thirds of them acknowledged being the target of sexist comments relating to their appearance and gender stereotypes, while a quarter of respondents said they had experienced outright sexual violence.
In the meantime, being a young female was an aggravating factor, the study asserted. Women MPs under 40 were targeted more often – they were abused in the media or were sexually harassed by superior colleagues, political opponents or ordinary citizens.
"As a woman MP myself, I am deeply troubled by these results that show that the problem of sexual harassment in parliaments is even worse than we thought," said Inter-Parliamentary Union President Gabriela Cuevas.
One of the survey respondents cited an incident in which a male colleague called her "too young and stupid" and told her to "get back to your kitchen," while another MP reported that a male colleague "was constantly putting me under pressure, calling me and sending me text messages with sexual content."
Another respondent said she received an anonymous email threatening the lives of her children and husband. "You can hire bodyguards, but we know where you live. We'll get you all," she reported the message said.
"Unfortunately, the study points to a sad reality. The #MeToo movement has not spared the world of politics," said Liliane Maury Pasquier, PACE President.
READ MORE: 'You can break a person': Widow of #MeToo witch-hunt victim blames campaign for husband's suicide
The report comes as a group of European parliament employees launched a website MeTooEP.com, claiming not enough is done to protect women from harassment.
The #MeToo movement began in October 2017 after numerous allegations of rape and sexual misconduct against Hollywood producer Harvey Weinstein were made public. The Twitter hashtag quickly went viral with women, including a slew of celebrities, telling their own personal stories.
The movement, however, was also subject to widespread controversy and was criticized by an array of public figures. Lindsay Lohan, for instance, has slammed women who jumped on board the MeToo bandwagon "for the attention," calling them "weak."
French film star Catherine Deneuve has also denounced the #MeToo campaign, saying it is similar to a "totalitarian society" in which men are being forced to make "public confessions...and having to rack their brains and apologize for 'inappropriate behavior' that might have happened 10, 20 or 30 years before."
You can share this story on social media: