First Le Pen, now Melenchon? Another Macron critic has headquarters raided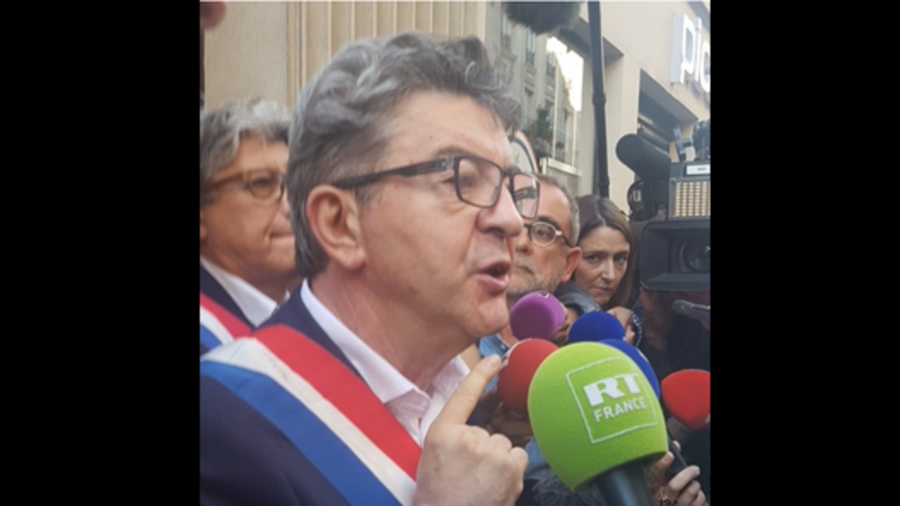 Former French presidential candidate Jean-Luc Melenchon's home has been raided by police, as part of an investigation into alleged misuse of EU funds that also targeted political firebrand and Macron critic Marine Le Pen.
The leader of France's left-wing La France Insoumise (France Unbowed) livestreamed the unannounced intrusion on Facebook, vowing to exact revenge on France's Minister of Justice Nicole Belloubet for the raid, which targeted his home as well as his party's headquarters.
Jean-Luc Mélenchon appelle celles et ceux qui le peuvent à se rassembler à 11h30 au 43 rue de Dunkerque, dans le 10ème arrondissement de Paris, pour protester contre cette attaque politique. https://t.co/pM9q2JWBhX

— Jean-Luc Mélenchon (@JLMelenchon) October 16, 2018
"Nicole Belloubet, are you proud of what you are doing? Have you forgotten everything: who are you, who I am? So you have no dignity? All shots are allowed?" he said during the livestream.
"You do not know what you're up against – a political force, not an isolated person. We will make you pay politically."
Melenchon then urged his supporters to meet at the head office of France Unbowed in Paris for an impromptu rally. Police reportedly seized phones and computers from the headquarters as part of their investigation.
The searches are believed to be part of an ongoing probe into fraudulent claims to the EU to cover for fictitious staff members. Melenchon is also under scrutiny for alleged financial irregularities during his 2017 presidential campaign.
Marine Le Pen, the leader of France's right-wing National Rally, was targeted by a similar EU funds probe last year. Le Pen dismissed the allegations made against her as political persecution.
A raid on National Rally's headquarters in February 2017, which came amid the French presidential election, was slammed by the party as a "media operation whose sole purpose is to try to disrupt the smooth running of the [Le Pen's] presidential election campaign."
Both Melenchon and Le Pen have been fierce critics of French President Emmanuel Macron, who triumphed over the two politicians in last year's presidential election.
In September, Melenchon led a rally against Macron's newly-signed labor reforms, describing the demonstration as necessary to prevent a "social coup d'etat" aimed at French workers.
Like this story? Share it with a friend!
You can share this story on social media: