Trump, Netanyahu share 'brotherhood' in opposition to Palestinians as Israeli crackdown intensifies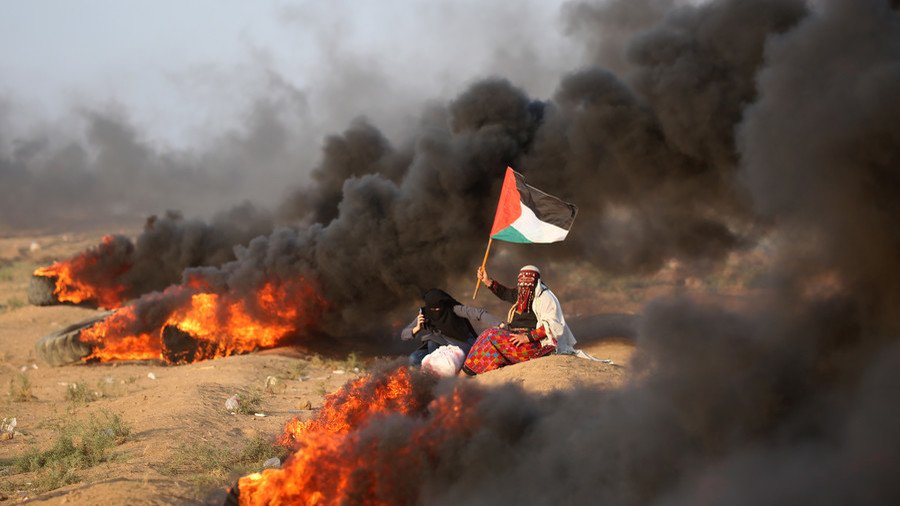 Israel has threatened to unleash a "powerful blow" against Gaza – but don't expect criticism from Washington: Shared animosity towards the Palestinians has united Donald Trump and Benjamin Netanyahu, RT is told.
Israeli Prime Minister Benjamin Netanyahu on Sunday warned of military action against Hamas, which controls the Gaza Strip, if the 'March of Return' protests continue.
READ MORE: 12yo boy among 3 Palestinians killed during 'March of Return' at Gaza border
The threat is just the latest in a long list of extreme punitive measures taken or announced by Israel to crush the nearly-weekly protests, which began six months ago. Despite international criticism over the bloody crackdown – which has killed an estimated 200 Palestinians and left more than 20,000 injured since March – Israel has a reliable partner and friend in the White House.
Netanyahu and Trump have found a brotherhood in their policies towards the Palestinians, and towards the Saudis, and towards Iran.
They've really "aligned themselves very closely," Joshua Landis, the director of the Center for Middle-East studies at the University of Oklahoma, told RT.
Israel has resorted to using live ammunition to disperse the demonstrations, and has even called in airstrikes in retaliation against attempts by Palestinians to breach Israel's border fence. Tel Aviv has also instituted economic punishments, announcing earlier this month that it would restrict waters used by Palestinian fishermen by 33 percent.
According to Landis, the Trump administration has been a boon for Israel. During the Obama years, there was "great tension" between Washington and Tel Aviv, even though they were "aligned in terms of their foreign policy."
"The Obama administration took great pride in repeating constantly that it had done more than any previous administration to help Israel, in terms of arm sales and transfer of technology and so forth. Still, it was quite clear that president Obama wanted settlements stopped, wanted a two-state solution – and that has been reversed under president Trump."
The Trump administration announced in August that it would withhold $200 million used to help fund the United Nations Relief and Works Agency for Palestine Refugees in the Near East (UNRWA), a UN agency that provides humanitarian aid for more than 5 million registered Palestinian refugees.
Palestine's foreign minister described the policy move as an "attack the Palestinian people and international law." The State Department insisted that the cuts were "in accordance with US national interests and provide value to the US taxpayer."
In December, the US president declared that he would unilaterally recognize Jerusalem as Israel's capital, in violation of UN Security Council resolutions.
Like this story? Share it with a friend!
You can share this story on social media: