12yo boy among 3 Palestinians killed during 'March of Return' at Gaza border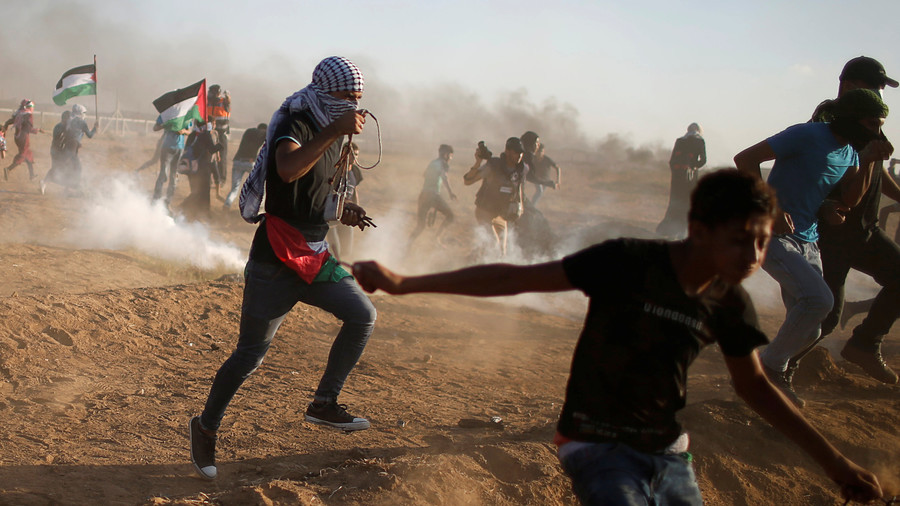 Three people, including a 12-year-old boy, have been killed on the Gaza border after IDF personnel used live ammunition against Palestinian protesters rallying against the Israeli occupation. Some 248 people have been injured.
The deadliest Israeli-Palestinian clashes since the 2014 Gaza War have resulted in three more casualties: Hani Ramzi Afaneh and Mohammad Khalil Shaqoura, both 21, as well as 12-year-old Shadi Abul-Al, WAFA news agency reported.
At least 248 people have been injured or suffered from tear-gas exposure, according to the Gaza Health Ministry. Some 15 people were hit by live bullets.
The Israeli Defense Forces has referred to the protesters as "rioters," insisting that its response was proportionate and in line with its rules of engagement. The Israeli army spokesman said that the protesters pelted its forces with rocks and burning tires, throwing two grenades and bombs, injuring one Israeli soldier. The soldier had suffered a shrapnel wound and received medical attention on the spot.
The IDF also claimed that nine Palestinians attempted to break through the fence on the Israel-Gaza border but were stopped by the Israeli security forces. In retaliation, the IDF targeted two Hamas positions inside Gaza with tanks and aircraft.
Tensions have been running high on the border for six months now, since the first "Great March of Return" protest on March 30 drew some 30,000 Palestinians. So far, 178 Palestinians have been killed and over 19,000 injured in the weekly protests.
The situation has been exacerbated by US recognition of Jerusalem as the Israeli capital and the grand opening of the embassy there in May, which has drawn anger from Palestinians, the entire Arab world, and even some US allies in Europe.
The Trump administration's recent decision to defund the UN's Palestinian refugee agency (UNRWA) and shut down the Palestine Liberation Organization offices in Washington have also fueled Palestinian anger.
Subscribe to RT newsletter to get stories the mainstream media won't tell you.
You can share this story on social media: