'Pandora's box' opened by Kosovo recognition, not by attempt to mend ties - Serbia's president to RT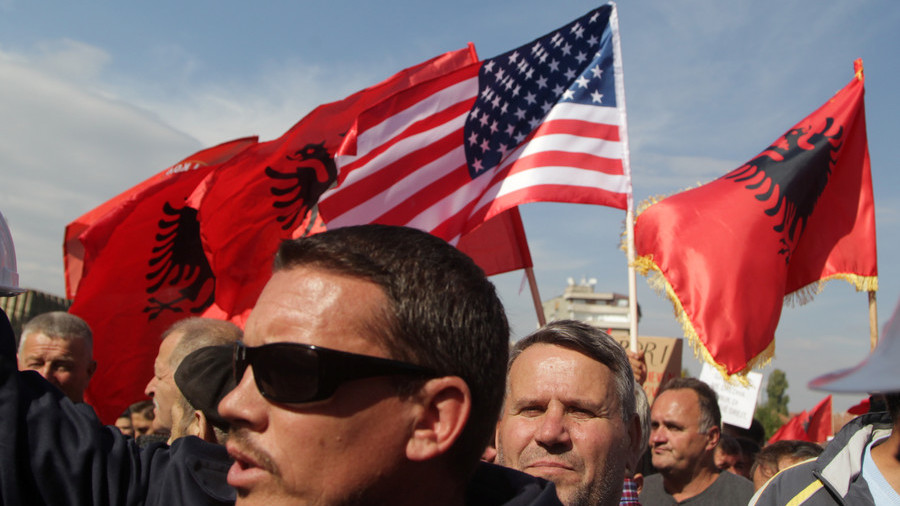 EU countries have shown great hypocrisy criticizing a rumored land swap between Serbia and Kosovo, Serbia's leader told RT, pointing out that they were the ones who changed the borders by recognizing the breakaway region.
"How can we open a Pandora's Box?! Who opened this Pandora's Box in 2008 having accepted, acknowledged and recognized the unilaterally proclaimed independence of Kosovo?!" Serbian President Aleksandar Vucic told RT's Sophie Shevardnadze.
The official commented on the idea of a "land swap" between Serbia and the breakaway region of Kosovo, reportedly mulled over in Belgrade this summer, insisting that it was never actually directly proposed.
Even media reports of it, however, caused quite a stir in the EU, with Germany, Finland, Luxembourg and other countries rallying against any potential border changes.
"When they say to me 'we don't want to change the borders', I immediately reply to them saying 'Ok, that means that Kosovo is the part of Serbia, there are no border changes' – 'No, no, we accept the border changes that we did 10 years ago, but you cannot do it even if you agree on that with your Albanian counterparts,'" Vucic said, wondering "Where are the principles? Are there any principles?"
Such an approach has shown a great deal of hypocrisy on the EU's part, Serbia's president said, adding that unlike Europe, Russia has expressed readiness to accept any deal, which would suit Serbia.
"There's only one sentence that I have always been saying: we need to find a compromising solution between Serbs and Albanians which means that it cannot be the case that Albanians get everything and Serbs get nothing," Vucic stated, adding that in the past "Albanians gained absolutely everything that they've ever dreamed of, and Serbs got absolutely nothing."
READ MORE: Serbia's Vucic inspired after talks with Putin, got 'everything he was looking for'
Belgrade remains open to any negotiations with Kosovo, yet the latter has shown little desire to reconcile with Serbs, who stuck to all of their obligations. Brussels, which is supposed to oversee Pristina's "efforts" did not do anything to press it into fulfilling their part of the deal, Vucic stated.
"[Kosovo's] obligation was foundation and establishment of the Serb community or the Serb Association, it doesn't matter how you call it. They didn't do it, they didn't do a single small step forward on this issue," the president said. "Anyway, Serbia will always be ready to resume the process of dialogue, but I'm not expecting very much as a result of it."
You can watch the full interview here
Subscribe to RT newsletter to get stories the mainstream media won't tell you.
You can share this story on social media: