12yo 'cannibal' & her lover kill, dismember landlord out of 'hunger and curiosity' – reports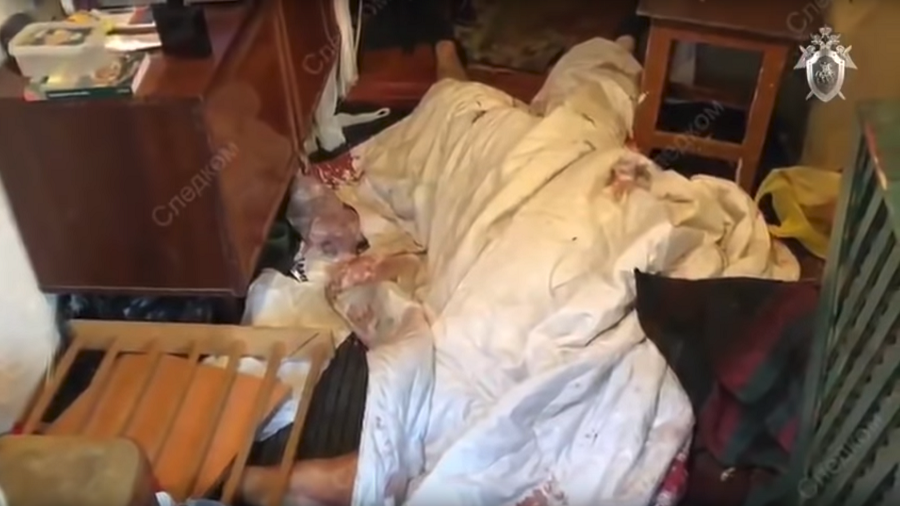 A story that appears to come straight from a horror movie has unraveled in Russia's Leningrad region, where a 22-year-old man and his 12-year-old 'lover' reportedly killed, dismembered and partially ate their landlord.
While authorities have yet to confirm the grisliest details of the bone-chilling crime, what they've officially revealed so far is already frightening enough. On Wednesday, the dismembered body of a young man was found at his home in a small village near St. Petersburg. Two suspects were soon caught – a man in his early 20s and his 12-year-old companion, who "took part in the assault", according to the police statement.
The pair lived in the house with the owner's permission, but sometime on Tuesday night or Wednesday morning the tenants and the 21-year-old landlord got into a quarrel, which ended with him being stabbed to death, the police believe. The victim's body was later mutilated, with the investigators currently "checking information that fragments of the killed person's body had been used as food."
Мужчина и несовершеннолетняя девочка подозреваются в жестоком убийстве и расчленении 21-летнего жителя поселка Новинка Ленинградской области.Следствием также проверяется информация о возможном употреблении в пищу подозреваемыми фрагментов убитого мужчины🎥 18+ pic.twitter.com/LAnlNBuqwc

— Следственный комитет (@sledcom_rf) October 3, 2018
Unofficial accounts of the murder are far more terrifying and may not be suitable for the faint-hearted. According to the news website 47news.ru, one of the suspects was a girl who went missing in her home city of Sochi about 2,350km away four months ago. The suspects allegedly told police they were lovers, which, if proven, would also make the man a child rapist under Russia's criminal code.
The girl allegedly told the police that she was the one who killed their landlord, Aleksey Popovich, in his sleep and started disemboweling the body "out of curiosity", which may be an attempt to shield her partner from criminal charges. She is also said to have stated that the two cooked parts of the victim because they were "hungry" – and that, while she found human meat "too sweet", she really liked the brain.
In turn, the male suspect reportedly said he'd killed Popovich during an argument, while the girl cheered, and that he vaguely recalls what happened next. He said his lover microwaved a severed head, that carving it open was pretty hard, that he couldn't stomach the dead man's brain and eventually dropped into delirious sleep.
In the morning they apparently tried to light the fire in the stove, but smoke filled the house and started pouring out of the windows. This drew the attention of neighbors, so the two alleged killers tried to flee, only to be caught hours later by the police.
The victim inherited the village house from his father ten years ago. He was reportedly not very bright, but had a big heart, according to his mother, and had a habit of letting strangers stay with him. His page on VKontakte, Russia's most popular social network, is full of selfies and amateur poems. It also shows him as an avid film watcher. In a morbid twist of irony, the latest film on his playlist was the 2013 Spanish-Romanian thriller 'Cannibal' directed by Manuel Cuenca.
Selfies with human remains: Russian 'cannibal couple' detained after gruesome find
The male suspect comes from the Altai region of western Siberia and has a background in music. According to his online footprint, two months ago his 18-year-old girlfriend died after jumping out of a window, and losing her after a three-year-long relationship was crushing. It's not clear how he came to know the young girl, who reportedly has a history of running away from home. The police said she was currently considered an "underage witness" in the case, but has been placed in detention in a facility for juvenile delinquents.
Think your friends would be interested? Share this story!