Pragmatists win: Kurz to meet Putin for 4th time this year to strengthen ties & foster dialogue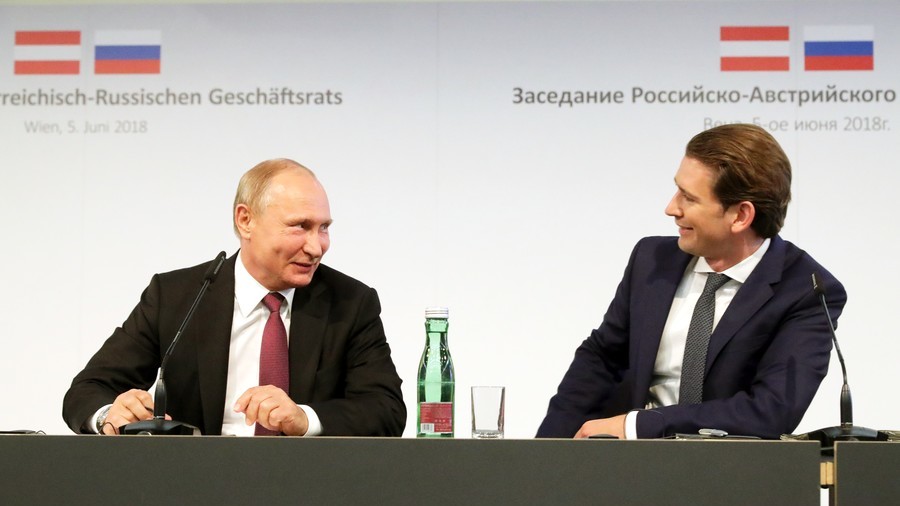 Austrian Chancellor Sebastian Kurz is set to meet President Vladimir Putin on Wednesday for their fourth meeting this year. Vienna has traditionally been a bridge-builder in the EU's turbulent relations with Russia.
Kurz is to meet Putin in the Russian leader's home city of St. Petersburg as part of a working visit. The two men are to open a historic painting exhibition dedicated to relations between the two countries in the city's most prestigious museum, the Hermitage, before proceeding to talks. Their delegations include the head of Russia's Gazprom and Austria's OMV, although no energy deals will necessarily emerge from this, according to Putin's administration.
The Austrian president has played a tricky role as a mediator between the rest of the EU and Russia. Building on a long history of neutrality (Austria pledged not to join any military alliance when Soviet troops were leaving it in 1955 and lived up to this promise), Kurtz is perceived in Moscow as a pragmatic voice in Europe, who can be trusted not so seek confrontation with Russia for confrontation's sake.
At the same time, Austria is in no way sacrificing collective European interests for the sake of bilateral ties with Russia. It may call out the US administration's attempts to wrestle its way into the European energy market while signing a long-term deal with Russia itself, but it toes the line on collectively agreed policies from Brussels, according to RT political analyst Vladimir Kornilov.
"Of course, compared to the overall policy of obstruction prevailing in the EU, the policies of Kurz and Austria under him are quite different. But he repeatedly stressed that regardless of economic interests and special relationship, when it comes to common policies of the EU, including anti-Russian sanctions, Austria would vote with the majority," he said.
Sometimes this special relationship with Russia results in taking some heat at home. Kurz's previous meeting with Putin was during the Russian leader's informal visit for the wedding of Austrian Foreign Minister Karin Kneissl.
The invitation was harshly criticized by European politicians and media, who seek to isolate Russia as much as possible. The minister herself was also mocked for curtseying after dancing with Putin.
Kurz insists that Russia is simply too powerful to be ignored and that there can be no resolution to some key problems affecting Europe without Russia's participation, be it the frozen armed conflict in Ukraine or the migration-causing war in Syria.
Since Austria currently holds the rotating presidency of the EU Council, Kurz would be in a sense speaking for the entire union when he meets Putin. A radical change of relations is not expected, but the meeting is clear evidence that the body of Russia isolationists in Europe is hardly getting any stronger.
If you like this story, share it with a friend!
You can share this story on social media: