Not all singing & dancing: Putin managed to 'talk business' at Austrian FM's wedding, too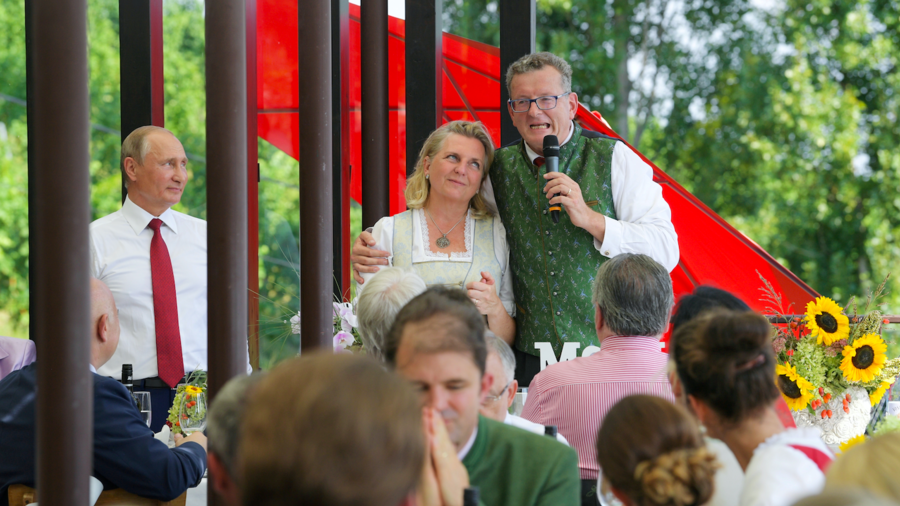 Vladimir Putin's appearance at the wedding of Austrian FM Karin Kneissl was of a "purely private" nature, but that didn't stop them from getting a little work done. He also happily shared that the groom is a fellow judo fighter.
Speaking to reporters after talks with Finnish President Sauli Niinisto on Wednesday, Putin said that "despite the festive occasion," it wasn't all fun and games. There was also an opportunity for the Russian President to "talk business" with Kneissl as well with the Austrian Chancellor Sebastian Kurz.
Putin thanked his Austrian hosts again and complimented their openness and professionalism. "I must say that these are mature people, who occupy serious positions in society, in the state, but at the same time they are cheerful people of open disposition, and from all my heart I want to congratulate them [for] the event that I took part in," he said.
Putin also admitted that Kneissl's new husband is "not a stranger" to him. "He is an ex-sportsman, a judo fighter, it always unites us," the Russian president said.
Video that emerged after the wedding showed Putin arriving with a bouquet of flowers for Kneissl and then later dancing in front of the other guests and delivering a toast to the happy couple in German.
Unsurprisingly, Putin's presence at the wedding was cause for outrage among some media commentators and opposition politicians who suggested it broke diplomatic protocol – and even prompted calls from some quarters for Kneissl to resign as foreign minister over the fact that she had done a curtsy at the end of her dance with Putin.
But Vice-Chancellor Heinz-Christian Strache hit back at Kneissl's critics, noting that she had studied at the prestigious Viennese Elmayer Dance School and that her bow was not a "symbol of submission" but of "politeness".
You can share this story on social media: