Iran unveils first domestic fighter jet, President Rouhani checks out the cockpit (VIDEO)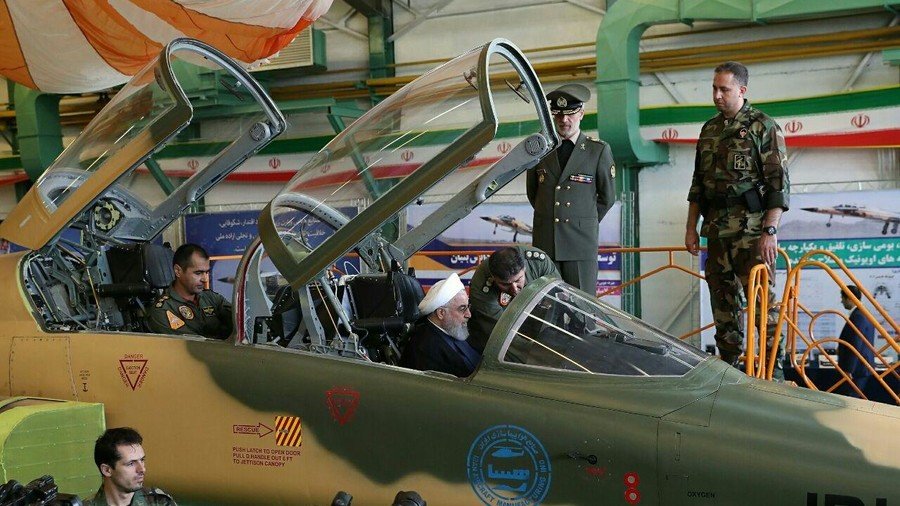 Iran has revealed its first domestic fighter jet, "Kowsar," at a defense show. President Hassan Rouhani has apparently been checking the readiness of the aircraft himself, as he was spotted sitting in the cockpit.
The fourth-generation jet boasts "advanced avionics" and a multi-purpose radar, the Tasnim news agency said, adding that it was "completely indigenously made." The "advanced" aircraft, which is to be produced in two versions – with a single cabin and two cabins – and will be used for aerial support missions as well as for pilots' training, according to Irna.
The jet was presented on Wednesday amid rising tensions in the Middle East as well as Tehran's growing rift with Washington. President Rouhani and Defense Minister Amir Hatami were at the ceremony, with the President even getting into the cockpit to check out how comfortable pilots would be in the newest addition to the Iranian air force.
Addressing military officials in Tehran on Tuesday, Rouhani stressed that the country's military power is meant for defense, but cautioned that it would reiterate against any hostile move.
"We should make ourselves ready to fight against the military powers who want to take over our territory and our resources," Rouhani said in a speech broadcast live on state television on Tuesday, according to Reuters.
"Why does the United States not attack us? Because of our power, because it knows the consequences," the Iranian president added.
Like this story? Share it with a friend!
You can share this story on social media: