A horse walks into a French bar… and no one finds it funny, chaotic VIDEO shows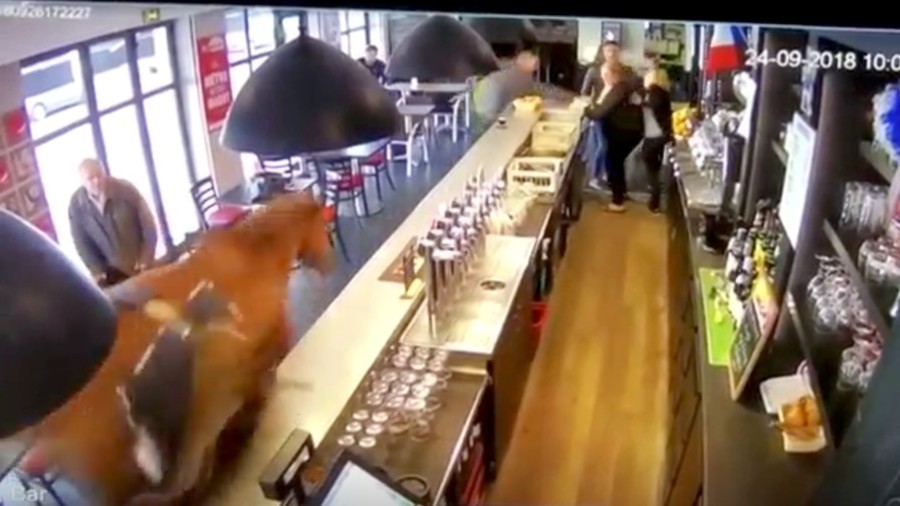 Horses are normally very stable animals but that doesn't stop them going berserk every now and then, as shocked patrons of a French bar found out recently when a bucking bronco disturbed their quiet gathering.
After tearing away from its handler at a French racecourse in Chantilly the young horse decided to run into the nearby bar where it sparked chaos among customers.
According to Ouest-France, the filly horse escaped as it was being led away from a stable before it made its way into a watering-hole favoured by racing enthusiasts which is located almost one kilometer away. There the animal was filmed foaling around while also kicking out violently.
CCTV footage has since emerged of the chaotic scenes from inside the bar. It shows the startled horse running past tables and chairs as it bucks its hind legs. As the bizarre incident unfolds a number of horrified customers and staff can be seen running for the exits.
One bar worker told Le Parisien how she has been unable to sleep after witnessing the shocking 'horse play', which occurred at the end of September.
"I was quietly serving the coffee on the terrace when I saw the huge horse rush at me," the waitress said.
"I went inside in a panic, shouting 'horse, horse'. I ran to hide in the kitchen. I could not sleep for two days so much I was traumatized," she added. The horse was eventually recovered by its trainer and nobody was injured in the incident.
However, the bar has been left with a significant bill for damage, reported to be around the €10,000 mark.
Like this story? Share it with a friend!