North Korean foreign minister speaks at UNGA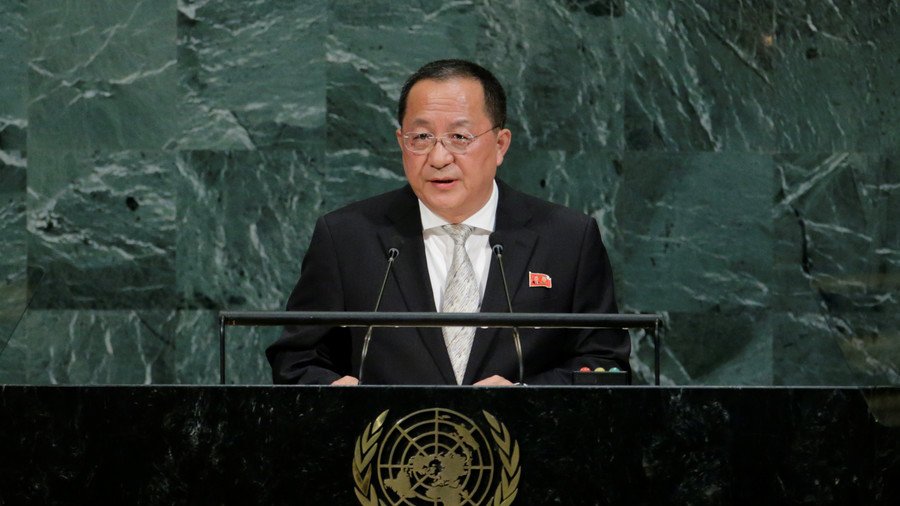 North Korean Foreign Minister Ri Yong-ho has taken the stage at the UNGA. His speech comes amid mixed signals from the US, ranging from threats of "increased pressure" to hopes for a second Trump-Kim meeting "to come soon."
29 September 2018

15:22 GMT

Denuclearization should be implemented in parallel with "trust building efforts" in a "step-by-step" measure, the North Korean foreign minister said, adding that Pyongyang sees no signs of cooperation from the US.


"The reason behind the current deadlock is that the US is relying on the coercive methods that prevent trust building," he added.

15:13 GMT

DPRK Foreign minister noted that although almost a year passed since the last test, sanctions on North Korea remain.

15:11 GMT

With no confidence building, there is "no way we will unilaterally disarm first," Ri Yong-ho said.
The situation in the relations between the US and North Korea has become a hostage of the US foreign politics – the opposition has made "slandering" Pyongyang its "daily business," the foreign minister said.

"Implementation of the joint statement is in the best interests of the US. If it becomes the victim of the US internal politics, the primary victim will be the US itself."

15:09 GMT

Forces opposing the US government in America are attacking North Korea for their political gain, according DPRK's foreign minister.

15:06 GMT

Conception that sanctions can bring us on our knees is a pipe dream of people who don't know us

15:05 GMT

Yong-ho went on to describe the steps taken by North and South Korea for rapprochement.

15:03 GMT

DPRK -US joint statement contains all necessary steps for the peace solution of the North Korea issue, says Yong-ho.

13:44 GMT

Ri Yong-ho has started his speech at the 73rd Session of the UN General Assembly.