Indian police beat up woman for 'dating a Muslim' in viral VIDEO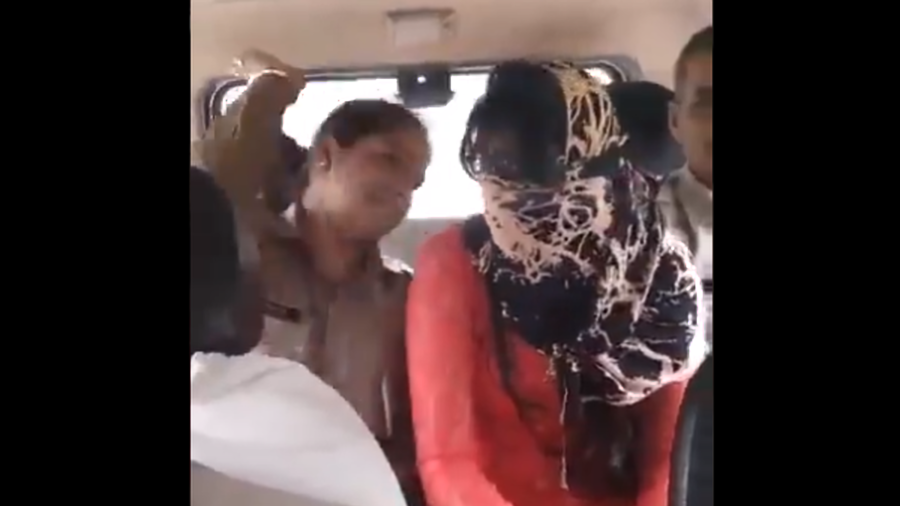 Shocking footage of Indian police officers hitting a young woman in northern India, as they accuse her of "choosing a Muslim partner" has gone viral. She was also apparently requested to frame the man for rape.
The video shows the woman, a 20-year-old female nursing student, being slapped with a volley of abuse at the hands of four officers inside a police vehicle because she was spending time with someone of a different religion from her own.
At one point, a female officer is seen slapping the woman as she sat next to her in the backseat of the police van.
The incident happened on Sunday in Meerut, in the northern state of Uttar Pradesh, but was only just picked up by the media after the shocking footage surfaced.
The woman said she was studying with a friend in his room when it was raided by a mob of activists from a right-wing Hindu organization, Vishva Hindu Parishad, India Today reports.The activists then took her friend to another room.
Shocking video of the girl who was rescued by cops from Vishwa Hindu Parishad goons who were harassing a Meerut couple for Love Jihad. The cops after rescuing the girl began assaulting her in the police van calling her out for chosing Muslim partner and made video. @uppolicepic.twitter.com/l0eIPmJKnp

— Piyush Rai (@PiyushRaiTOI) September 25, 2018
"They then started beating us," the woman told India Today. "Some of them kept asking me if I am a Hindu or a Muslim and demanded identity proofs."
She said the group of activists told her they were beating her because her friend is a Muslim. "Do you want to marry him?" they asked.
The activists then called the police, who took the couple to the police station in two separate vehicles.
READ MORE: Adultery decriminalized in India as it makes women 'chattel' of husbands – Supreme Court
On the way to the station a female officer is seen hitting the woman, while another apparently records the video. Other police officers are heard insulting her with what she later described as "filthy language". One officer demands to know why she isn't "ashamed of dating a Muslim."
Officers then tried to force her to file a rape case against the Muslim man. They allegedly said they would let her go if she did so, but she refused. She then called her parents and went home with them.
Think your friends would be interested? Share this story!
You can share this story on social media: