Paris-funded video about public urination called 'so funny that one just wants to pee'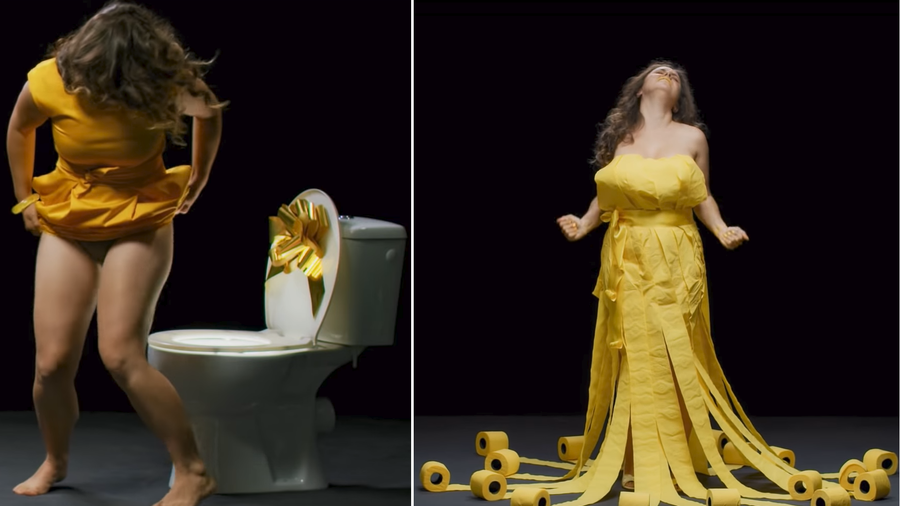 Singing through toilet seats accompanied by dripping sounds – the Paris City Council has funded a music video urging men to not urinate in public, but some say it could achieve the opposite effect on viewers.
"NO PEEING IN PARIS," the catchy chorus sung by comedian and YouTuber Swann Perisse, gives a clear understanding what the video – shot in a striking color palette of yellow – is all about.
Perisse and cast members in the video do everything possible – and probably impossible – to urge men not to urinate in public in the city of love and romance. The comedian, who wears a toilet paper ball gown matched with her yellow lipstick, pops her head through a yellow toilet seat and rushes to the toilet to pee.
Cast members using oversized toilet brushes as microphones and drinking cocktails of some yellow liquid complete the picture.
The constant dripping sound accompanies the dancing and singing in the video. "Who are these men who, standing before a dry wall, unzip their pants? They know it won't be washed tonight," the cast sings, shaming the 'pipi' perpetrators.
Under the video, which reportedly cost €6,500, Perisse thanked the city of Lights for helping her "realize a great dream: a video about pee."
The provocative video has received over 300,000 views on YouTube and has become a hit with social media users, and many were quite pissed.
"We have problems of transport, security, housing… and pollution. Here is how the Paris City Council spends your money," Michael Miguères, who works as an adviser in Paris 16th district, wrote on Twitter.
Even the Paris suburbs are starting to worry. Isabelle Balkany, first assistant of Levallois commune, wrote: "Oh, Paris, City of Lights, your descent into hell continues."
"I am very happy that I don't live in Paris and my tax money doesn't go to create annoying videos," another woman noted.
Some people, however, were not that pissed upon watching the video, but rather got into the pissing mood.
"An example of a counter-productive ad: This anti-pee clip [funded by] Paris city hall is so ridiculous, so laughable, that one just wants to pee," one person noted.
"After this video I want to pee on the Rotonde in place Stalingrad [in Paris]," another one wrote.
The Paris authorities have recently waged a "large-scale" war against public peeing by rolling out a number of devices known as uritrottoirs, which are essentially toilets for urine mounted on top of flower boxes. According to the Paris, the red urine-collection boxes are filled with straw, which will reduce foul smells and, when filled, can be used for fertilizing plants.
Think your friends would be interested? Share this story!
You can share this story on social media: