Canadian firefighters battle fire tornado for control of their hose (VIDEO)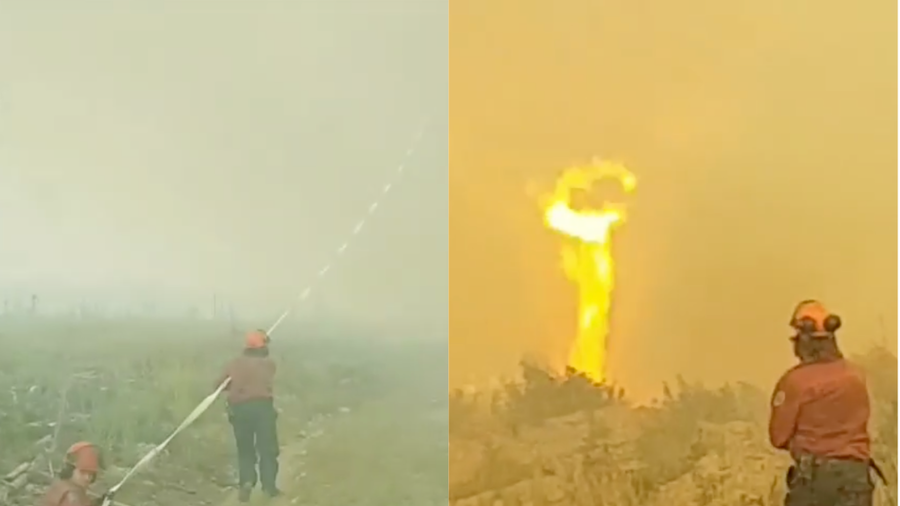 Dramatic video footage shows Canadian firefighters in a tug of war with a fire tornado in a battle to gain control of their hose which had been sucked up by the terrifying natural phenomenon.
The British Colombia force were fighting the twister for 45 minutes after it sucked up more than 100 feet of hose high into the air – before eventually melting it.
"Fire tornado destroyed our line," wrote firefighter Mary Schidlowsky, who posted the incredible video to Instagram. "It threw burning logs across our guard for 45 minutes and pulled our hose 100 plus ft in the air before melting it. That's definitely a first."
The crew were battling the blaze in Vanderhoof, which has experienced one of its worst fire seasons on record with at least 13,300 square kilometers burned in more than 2,000 fires since April. As of Monday, there were 342 wildfires burning in the province, according to the BC Wildfire Service.
READ MORE: Rare fire tornado caught on film during UK industrial blaze (VIDEO)
Schidlowsky writes that the tornado reached over 200 feet (61 meters) in height. 'Firenados' usually occur when wind connects with large bushfires, sending a whirlwind of flames, ash and debris flying through the air for miles.
Like this story? Share it with a friend!
You can share this story on social media: