Sniper Putin: Russian president tests new Kalashnikov marksman rifle (VIDEOS)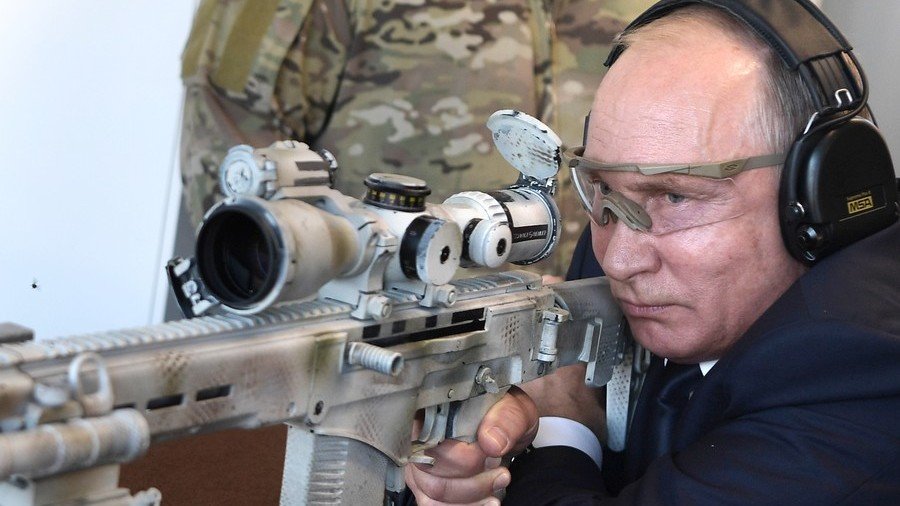 Footage captures Russia's president, who got his hands on a modern sniper rifle from renowned weapons-maker Kalashnikov, picking off targets at a distance of 600 meters.
Russian President Vladimir Putin visited an exhibition of the Kalashnikov Concern in Patriot Park outside Moscow on Wednesday. And he didn't just inspect the military hardware – he got up-close and personal with one of them – a modern SVCh sniper rifle.
Video from the scene shows Putin taking a good, long aim with the rifle and then taking a shot 600 meters from the target. His shots landed three times.
READ MORE: Gunning for Tesla? Kalashnikov to sell electric cars & bikes to UAE
The SVCh rifle is loosely based on the iconic Russian SVD and another lesser-known weapon by renowned weapons designer Evgeny Dragunov – the 'Compact Assault rifle' prototype. Taking the best concepts from both weapons, the SVCh is said to be more accurate and less prone to dislocation of the optics than the SVD, which is the main rifle for the Russian Army's designated marksmen.
Like this story? Share it with a friend!
You can share this story on social media: