Reporter cheats death as typhoon-ravaged skyscraper debris hurtles to ground (VIDEO)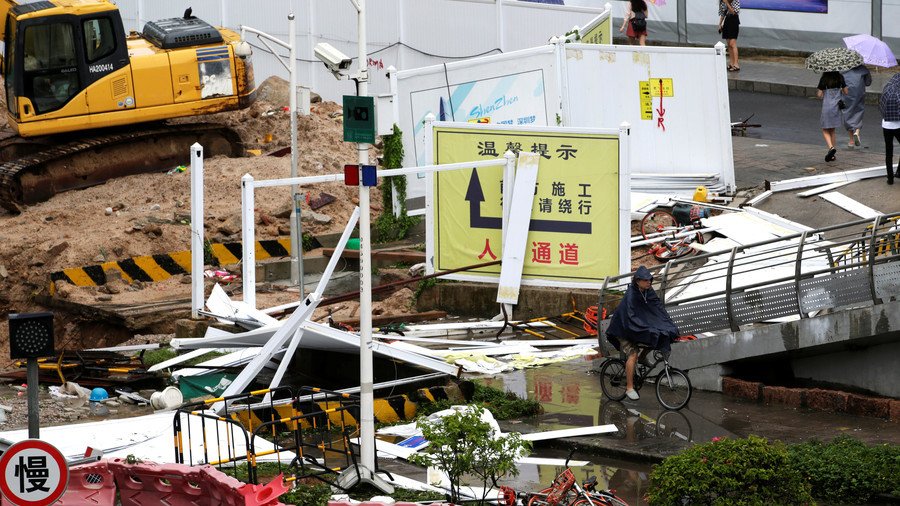 A Chinese reporter who braved the elements during Typhoon Mangkhut almost met an untimely end as ferocious winds sent huge chunks of debris careering to the ground – just yards from where he was standing.
He Chong, a journalist for the Guangdong Television agency, went out into the field after receiving reports of major structural damage to skyscrapers in Shenzhen City in southern Guangdong Province on September 16.
READ MORE: Hong Kong on highest typhoon alert as Mangkhut wreaks havoc, injures 100+ in China (VIDEO)
Mid-report, Chong came a bit too close to the action as a massive glass pane fell from the 22nd floor of a skyscraper just a few meters behind him, as captured in this terrifying video taken by his cameraman.
Thankfully, no-one was injured in the incident, but the typhoon did kill close to 60 people in the Philippines while injuring scores across China. Hong Kong was lashed by 100kph (60mph) winds, forcing up to 1,000 people to evacuate low-lying areas as debris rained down from above and vehicles were flipped over in the streets.
Like this story? Share it with a friend!
You can share this story on social media: