Hong Kong on highest typhoon alert as Mangkhut wreaks havoc, injures 100+ in China (VIDEO)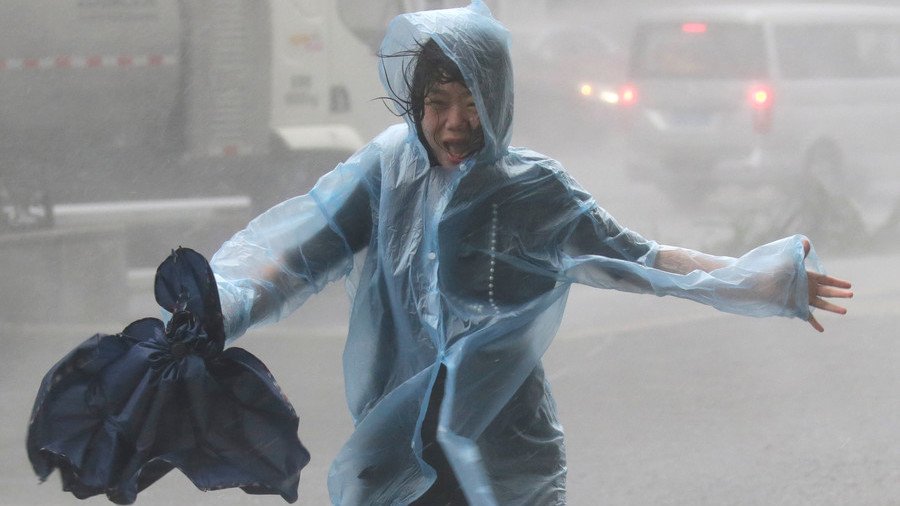 Terrified residents are holed up inside trembling buildings in southern China, as Typhoon Mangkhut approaches from the Philippines. Winds were seen tearing apart buildings, causing flooding, and flipping over vehicles.
More than 130 people were injured and nearly 1,000 fled to temporary shelters, according to Radio Television Hong Kong, as gusts of more than 170 kilometers per hour battered Hong Kong, with the epicenter passing around 100 kilometer south of the city.
Hong Kong and nearby Macau issued a rare No. 10 warning signal – the highest level possible - for the typhoon on Sunday. The cities are almost entirely shut down and one of Macau's main attractions, local casinos, were ordered to close for the first time in history, CGTN reports. The disaster has already left five people injured in Macao, according to local media.
The approaching storm has also disrupted power lines, as well as air and rail traffic, with a total of nearly 900 flights canceled.
Typhoon Mangkhut is expected to be the most intense in the southern part of the country this year. China's nuclear plants, Taishan Nuclear Power Plant and Yangjiang Nuclear Power Station, which lie in Mangkhut's destructive path are reportedly "in combat readiness," bracing for the coming disaster.
Footage circulating on social media shows fierce winds, tearing off roofs and parts of buildings in Hong Kong and nearby areas. The city is almost entirely shut down. In Shenzhen, some 20km from Hong Kong, several small buildings were seen literally blown down by the storm.
Nearly 60 are feared dead after Super Typhoon Mangkhut struck the Philippines on Saturday before making its way to China. Another dangerous disaster – Hurricane Florence – has meanwhile made landfall over the eastern US, killing at least 11 people.
Think your friends would be interested? Share this story!
You can share this story on social media: