Kim Jong-un welcomes South Korean leader to Pyongyang for historic summit (VIDEO)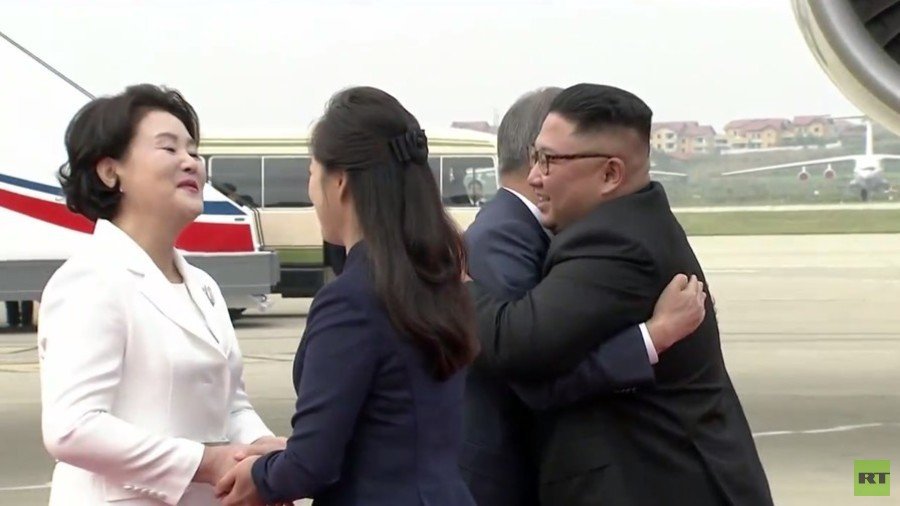 South Korean President Moon Jae-in has landed in Pyongyang for a historic summit with Kim Jong-un as part of the ongoing reconciliation process and talks on the denuclearization of the peninsula.
President Moon and his wife Kim Jung-sook were welcomed by the North Korean leader and Kim's sister Yo-jong, as well as hundreds of locals. Their three-day trip to Pyongyang began on Tuesday morning.
After Moon descended from the plane, Kim was seen offering a warm embrace to his South Korean counterpart, who has worked ardently to bring about a thaw in bilateral relations between the two states.
The South Korean president brought a large entourage of some 110 delegates, including top business leaders, who will discuss strengthening ties between the neighbors. Prior to Moon's arrival, some 90 South Korean officials arrived in Pyongyang on Sunday to participate in the historic summit.
While this is Moon's third meeting with Kim, it is the first time the South Korean leader has visited Pyongyang. Previously, the two men held talks on April 27 and May 26 in the border village of Panmunjom.
"[My] North Korea trip would have a great meaning if it could lead to the resumption of North Korea-US dialogue," Moon was quoted as saying prior to his trip.
Despite reaching a commitment regarding the denuclearization of the Korean Peninsula at the Singapore summit between Kim and US President Donald Trump, progress in US-North Korean talks were stonewalled last month after Secretary of State Mike Pompeo canceled his visit to Pyongyang.
The chief US diplomat was barred from traveling to North Korea by Trump, who cited the alleged lack of progress in the denuclearization process as the reason for canceling the visit.
Like this story? Share it with a friend!
You can share this story on social media: