'Toxic' banks treated with soap & smoke on anniversary of Lehman's collapse (PHOTO, VIDEO)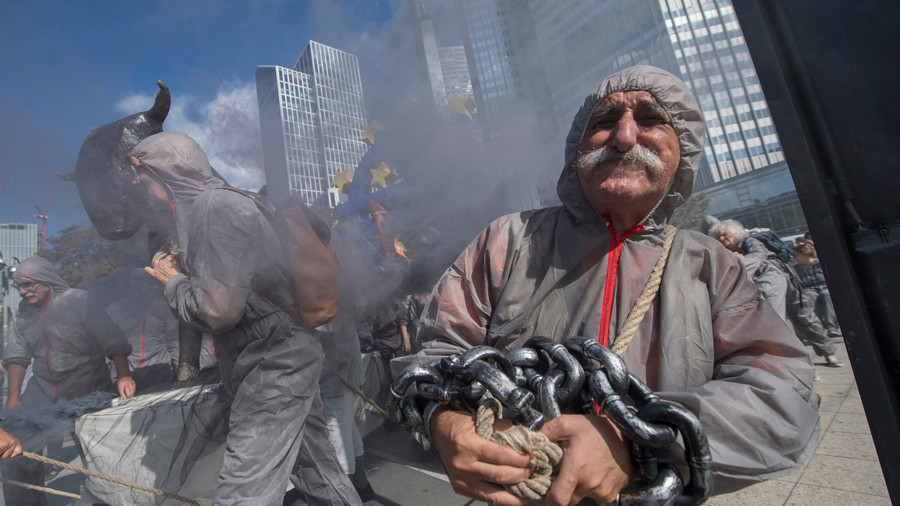 A French anti-globalist group has covered the walls of the country's most prominent banks with black soap, lightning orange smoke bombs, and green slime to decry the "toxic" finance industry.
Hundreds of activists from Attac France staged a series of protests across the country on Saturday to mark the anniversary of the global financial crisis, which was triggered by the bankruptcy of Wall Street titan Lehman Brothers on September 15, 2008.
The investment giant's demise sparked a chain reaction and led to economic turmoil that crippled the world economy for years to come, with many losing their homes and livelihoods.
Activists of the group's German branch, Attac Deutschland, took to the streets of Frankfurt under the slogan: "Finance for the people – for the many, not for the few."
"The goal is to celebrate in our own way the 10 years of the financial crisis, because nothing has been done, or so little, to disarm the big banks and the financial markets," Aurelie Trouve, spokesperson for Attac France, told AFP.
Protesters gathered at the offices of France's most prestigious banks, HSBC, Societe Generale, BNP Paribas and Credit Agricole, to denounce what they called the toxic nature of the banking industry. They took specific aim at the banks' vast investments in fossil fuels.
Some 60 activists attended a protest rally on the iconic Champs-Elysees in front of HSBC bank. The demonstrators, donning chemical-protection suits, climbed the bank's walls, plastering them with placards and smearing them with black liquid soap.
Orange smoke billowed and green liquid streamed to the pavement from barrels marked with skull-and-crossbones hazard symbols, while activists lay on the ground in a mock mass poisoning scene.
Similar actions took place in Marseille, Lille and Nantes. Activists say that around 100 protests, mainly across Europe, have been planned.
Police briefly detained some of protesters in Paris, but released them on Saturday evening following an identity check.
Like this story? Share it with a friend!
You can share this story on social media: