'Very important evidence': MH17 missile's serial numbers vital to investigation – analysts to RT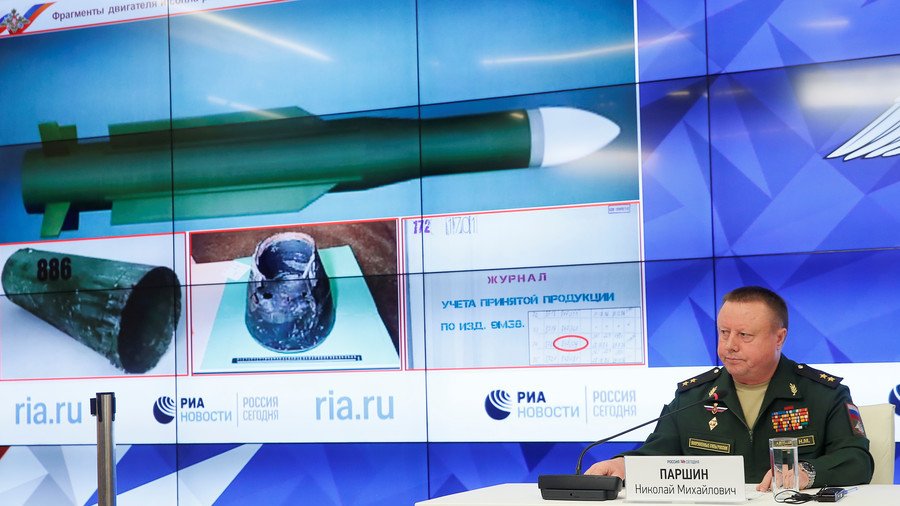 The Russian military's conclusion that the missile that brought down Malaysia Airlines flight MH17 contained Ukrainian serial numbers is important information that should be considered in the international probe, analysts told RT.
On Monday, the Russian military announced that the serial numbers found on debris of the Buk missile that downed MH17 over eastern Ukraine show it was produced in 1986 and owned by the Ukrainian military.
Former British military officer Charles Shoebridge and aviation expert Julian Bray spoke to RT, about the announcement and shared their predictions for what lies ahead in the MH17 saga.
Serial numbers
Shoebridge called the Russian military's conclusion "very important new evidence." He added that the international Joint Investigation Team (JIT) carrying out the probe into the incident will "be keen to look at it and also be keen to be seen to be looking at this evidence very closely." The JIT consists of investigators from Australia, Belgium, Malaysia, the Netherlands, and Ukraine.
The evidence is particularly significant because the JIT seems to have based their conclusions largely on footage from the Bellingcat website. However, Shoebridge says that Bellingcat "always takes a very pro US/UK side" despite claiming to be independent, and that the Russian Ministry of Defense now believes its footage was "digitally manipulated."
"We've got to marry up all the serial numbers that have been used so far to make sure there's definitive proof," said Bray, adding that more work needs to be done to make sure the conclusion surrounding the serial numbers is completely correct.
According to Bray, Russia should take a "more proactive" position when it comes to making sure the JIT has all of its evidence. "I prefer that the Russians say 'look, we're going to bring all this evidence to Holland for you to have a look at, and we demand that this is put into the overall investigation rather than rely on an invitation from the other side'."
Audio recording
Shoebridge was not sure why it took Russia four years to make public an audio recording which includes a Ukrainian colonel saying "We can bring down another Boeing."
"They will have to come up with some answer for that, but also of course if you were going to manipulate that or digitally create it, in other words fabricate that recording, of course that also wouldn't take four years," he told RT. "So there might be some administrative reason for that, or perhaps the significance of it wasn't appreciated until now."
He went on to note that verifying such recordings is "a lot more difficult than verifying for example radar monitoring recordings that can have some third party corroboration present - for example air traffic control records - but where it's just been produced through secret information it basically comes down to intelligence agencies' say."
Shoebridge said that he believes the serial numbers will be "far more important evidence."
Bray also pointed out the difficulty in verifying such recordings.
"You can alter them, you can take out pauses, you can take out single words, so it helps the overall story but it doesn't prove definitively that something happened...if we can actually trace it right back to the origin that'd be very helpful, but all this is positive information that needs to go to the tribunal to be properly considered," he said.
What now for Ukraine & Russia?
While one could still try and speculate the Donbass militias might have obtained the missile from the Ukrainian arsenal, the Kiev authorities have already shot themselves in the foot by saying at the time "that they had not lost any Buk missiles," Shoebridge said.
"So I think it is unlikely that they would admit this, but they should still be able to produce document trails for all of the other Buk missiles that Ukraine regiments received during that time as part of the Soviet Union," he said.
Bray is convinced that both Russia and Ukraine "know exactly what happened, and have all the information."
"For example, these missiles have tracking systems so Russia would probably know which missile did it, and also of course there's satellite photography, satellite imaging," Bray told RT. "No one has mentioned satellites and I'm quite sure both sides won't release the information for security purposes, because the other side doesn't want the other side to know what they've got out there."
Like this story? Share it with a friend!
You can share this story on social media: