Ukrainian nationalists hit reporter in face & throw eggs as police look on (VIDEO)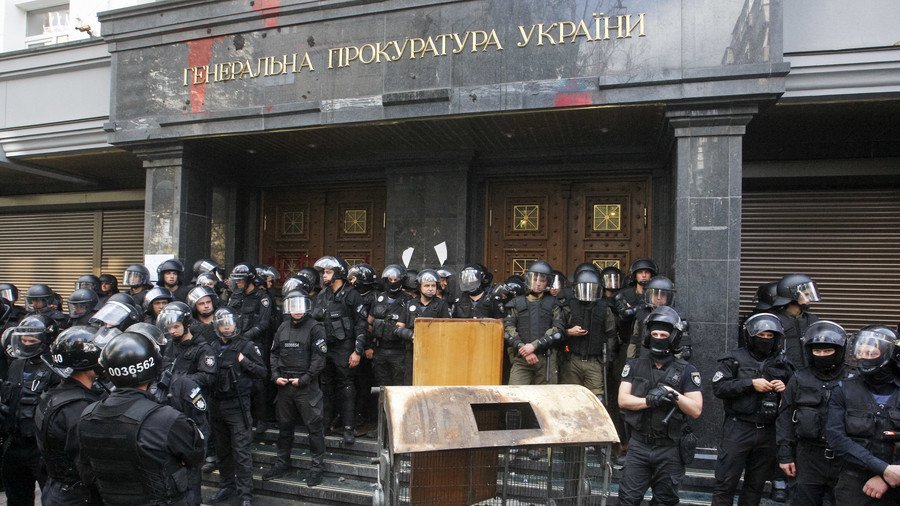 A reporter with Ukraine's NewsOne was viciously attacked by nationalists during a live report in Kiev. It happened during protests against the extradition of a Russian wanted over alleged involvement with terrorists in Syria.
The incident occurred on Monday during a nationalist rally in front of the General Prosecutor's Office building in Ukraine's capital. The journalist, Darina Bilera, was trying to do a live report from the scene when several people attacked her.
She was first pelted with eggs and other projectiles, before a woman hit Bilera in the face, forcing the NewsOne crew to retreat from the scene. The protesters accused the crew of being "pro-Russian," which can be heard on footage that has been uploaded online. Numerous riot police officers that were present near the prosecutor's office did not intervene in the incident.
The rally also saw scuffles between nationalists and law enforcement. The protestors threw stones at the police, set dumpsters on fire and tried to break into the building. At least seven police officers were reportedly injured in the clashes.
The nationalist protest was triggered by the extradition of a Russian national, Timur Tumgoev, to Russia, which was greenlighted by Ukrainian prosecutors last week. The protesters accused the Ukrainian prosecutors of being a "tool of the Kremlin" and demanded no less than execution by a firing squad for Prosecutor General Yuri Lutsenko.
In Russia, Tumgoev is sought for his alleged participation in the Islamic State (IS, formerly ISIS) terrorist group in Syria. In Ukraine, however, the extradition sparked uproar among nationalists since the man supposedly fought against the anti-Kiev rebels in eastern Ukraine.
Tumgoyev was first detained in Ukraine back in 2016 under an Interpol warrant, with his extradition initially greenlighted in November that year. The ruling of a Ukrainian court was challenged twice in the European Court of Human Rights, but was left unchanged due to "vague" testimonies provided by the suspect.
"Timur Tumgoev was sought for his involvement with Islamic State, which he never actually hid. Such men are professional fighters. Usually, they receive training in Egypt, fight for IS. Then, already having a red [Interpol] warrant, they come to Ukraine through Turkey," Deputy Prosecutor General Evgeniy Yenin told the Fakty newspaper last week. Tumgoyev did not want to cooperate with Ukrainian secret services and was of "no interest to the country's security," Yenin added.
READ MORE: Murder of Donbass leader committed with help of Western intelligence services - DPR acting head
During the two-year court proceedings, the suspect did not manage to provide any proof that he had actually fought for the Ukrainian side during the ongoing conflict in Donbass, Prosecutor General Yuri Lutsenko told a news conference on Monday. The official stressed that he would never surrender those who fought for Ukraine to the "enemy."
"But we cannot not turn Ukraine into a cesspool for criminals either," Lutsenko claimed.
Like this story? Share it with a friend!
You can share this story on social media: