French army in Deir ez-Zor? Photo shown by media raises questions about France's role in Syrian war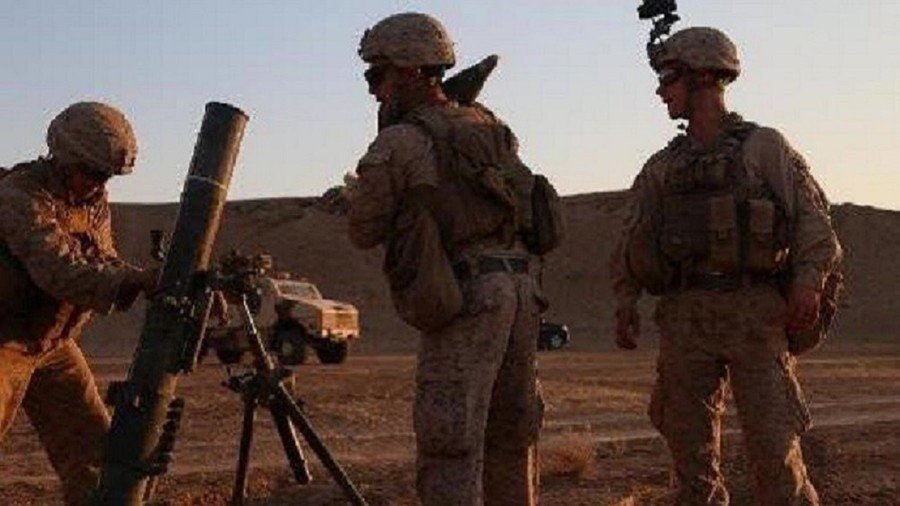 A French army vehicle spotted in a photo taken in Deir ez-Zor province has led to questions about the extent of Paris's involvement in the Syrian conflict. The image was reportedly shared by the US military on social media.
The vehicle in question is a wheeled armored personnel carrier equipped with a turret, which resembles the French army's Aravis infantry mobility vehicle. It can be seen in the background of the photo, which purportedly shows US troops lending support to Syrian armed groups fighting Islamic State in the eastern province.
France 24 journalist Wassim Nasr was the first to draw attention to the picture. He said it was released by the US Special Ops Joint Task Force in Iraq and Syria on Wednesday, before being promptly removed – possibly at the request of French authorities.
France is part of the US-led coalition in Syria, and has been actively participating in the aerial campaign in the region. Notably, it was involved in a joint airstrike with the US and the UK in April following an alleged chemical attack on Douma, a then rebel-held suburb of Damascus.
The French government, however, has never said that it has troops on the ground in Deir ez-Zor.
But, the military vehicle in the photo has to be French, according to Nasr. "We know for sure that it is a French vehicle because of its mark – it is an Aravis," he said, adding that "only the French Army and the Saudi Army" have such vehicles, and that the Saudis are not known to be present in Deir ez-Zor.
He also said that similar vehicles have been seen in Syria on "numerous occasions", in the territories controlled by US-backed militants, such as Manbij. The journalist said that the picture was taken in August of this year.
While France 24 reported on the issue, neither the French Army nor the US military have commented so far.
The US Defense Secretary James Mattis, however, told Congress in late April that France had sent special forces to Syria, and "reinforced" Washington in its fight against Islamic State, but didn't go into further details. Deir ez-Zor province is one of the few remaining areas of the country where ISIL still maintains a presence.
RT could not independently verify the authenticity of the photo reported to have been shared by the US military.
You can share this story on social media: