Dashcams on tanks: Armored action caught on VIDEO from the thick of Vostok 2018 drills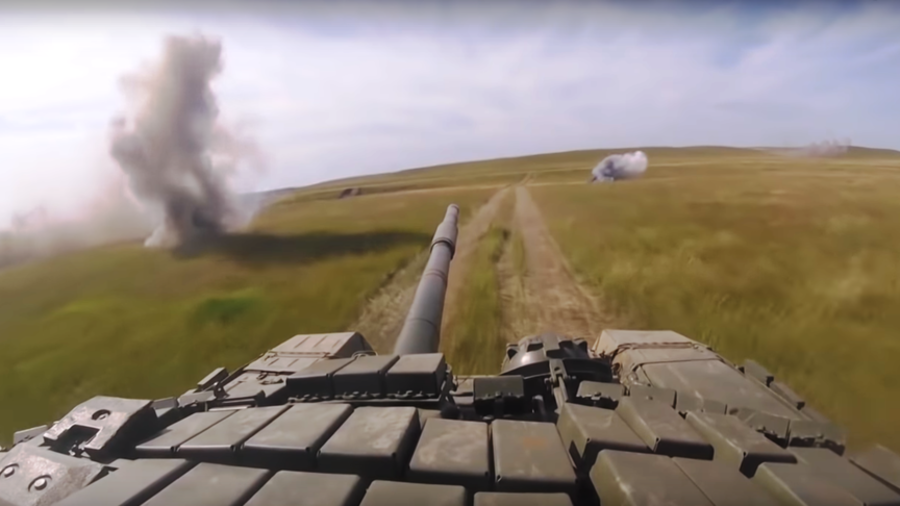 The Russian military has offered a first-person view of an array of battle tanks and APCs charging through an open field and shooting targets as they were being drilled at the massive Vostok 2018 war games in Siberia.
The footage, published by the Russian Defense Ministry on Saturday, shows a Go-Pro view from one of the Russian tanks taking part in exercises at the Zabaikalsky Krai's Tsugol firing range. Around a dozen war machines are seen driving through the firing ground, including T-72 tanks and some armored personnel carriers.
The drills, which run from September 11 until September 17, have become the largest maneuvers to be held in Russia for over three decades. The week-long drills involve the most advanced hardware, tens of thousands of combat vehicles, more than 1,000 aircraft, and around 300,000 troops.
READ MORE: Steel march: Putin reviews troops & armor on parade during massive military drills (PHOTO, VIDEO)
President Vladimir Putin observed the main part of the Vostok 2018 games on Thursday, as Russian and Chinese forces staged a joint troop review.
Like this story? Share it with a friend!
You can share this story on social media: