Statues of Nazi-saluting wolves appear in Chemnitz, Germany amid far-right & counter demos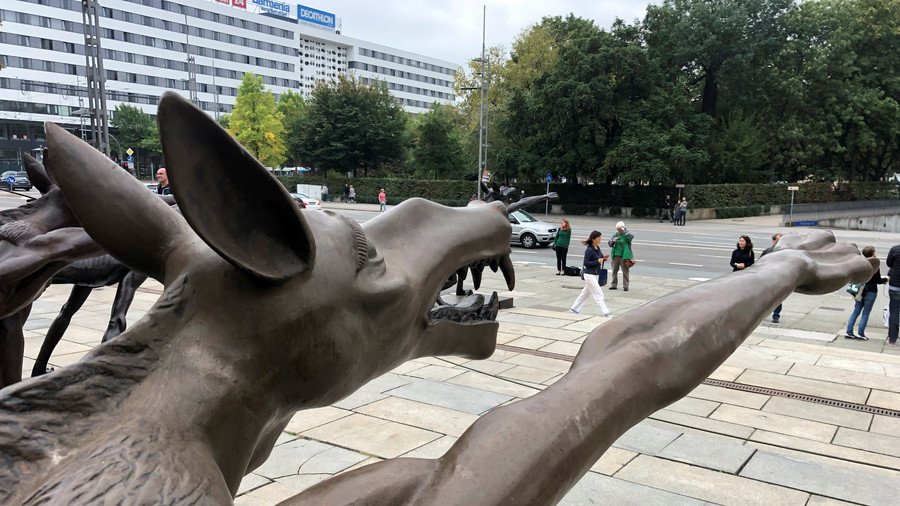 Under the eyes of Chemnitz's Karl Marx statue, the sight of snarling bronze wolves with their right paws outstretched seems out of place. However, the artist behind the work hopes it will spark a "discussion" in German politics.
Titled "the wolves are back?," the installation features ten bronze statues of aggressive-looking wolves, many with their right paws outstretched as if they are doing a Hitler salute. Others, meanwhile, are blindfolded.
Describing his work as a "political vigil," artist Rainer Opolka's installation in Chemnitz comes two weeks after the death of a German man, allegedly killed by two migrants, sparked protests and rioting in the city.
"Some people in Chemnitz did the Hitler salute and, what is more, they hunted foreigners through the city," Opolka explained to RT's video agency Ruptly.
"Therefore I am standing here [to say] democrats should not tolerate this."
Banners accompanying the statues hark back to Germany's own troubled history of Nazism, with one warning: "Where one is hunted, one is later stepped on."
Another takes aim at the right-wing political party Alternative for Germany (AfD) and the anti-Islam group PEGIDA, accusing them of using hate to gain popularity. A third sign, however, takes a more even-handed approach, condemning all violence.
Both the AfD and PEGIDA have seen a surge in popularity amid growing criticism and anxiety among Germans over Chancellor Angela Merkel's open-door policy of accepting migrants and refugees fleeing war in the Middle East.
Opolka's goal of bringing people "into a discussion" about the issues Germany appears to have already been achieved as of Thursday, with crowds gathering to look at the work and talk to the artist.
One woman talking to Ruptly said the use of wolves has left "a strong impression" on everyone.
"Not just the extreme right but the extreme left, for example. I think this is against hate in general, against violence. You cannot find peace with violence."
Subscribe to RT newsletter to get stories the mainstream media won't tell you.
You can share this story on social media: