'Petty revenge': Hungary blasts MEPs for supporting punitive measures against Budapest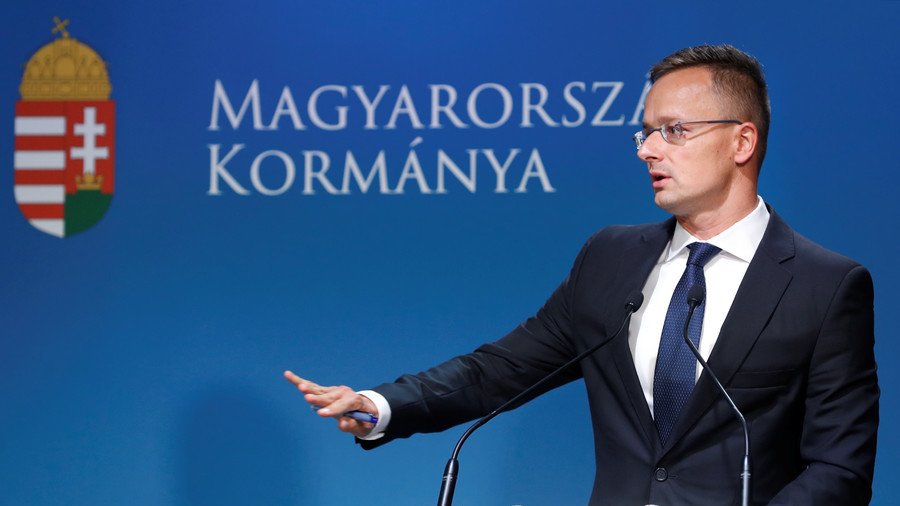 Hungary's foreign minister has fired back at the EU parliament decision to trigger Article 7, which can lead to sanctions against Budapest over its immigration policies, branding it the "petty revenge" of pro-migrant politicians.
"Today's European Parliament decision was nothing but a petty revenge of pro-immigration politicians against Hungary," Foreign Minister Peter Szijjarto said during a news conference in Budapest on Wednesday.
"The decision was made in a fraudulent way, and contrary to relevant rules in European treaties."
The official argued that the votes of those who abstained were not taken into account, which swung the outcome of the voting.
Article 7 of the 2007 Treaty of Lisbon is often viewed as the EU's 'nuclear option,' used when there's is "a clear risk of a serious breach" of the bloc's "values" by one of its members. If fully implemented, it could deprive Hungary of voting rights in the European Council.
Earlier on Wednesday, the European Parliament greenlighted triggering of the Article 7 against Hungary with 448 votes in support against 197 counter votes. The voting, however, does not mean immediate sanctions against Hungary, as the parliament passes the motion to the European Council, which has to unanimously decide on the punitive measures.
Before the vote, Prime Minister Viktor Orban called the proceedings on the Article 7 an "insult" to his nation, accusing the "pro-migrant majority" of targeting Hungary for its reluctance to become a "country of migrants."
"Hungary will not accede to this blackmailing, Hungary will protect its borders, stop illegal migration and - if needed - we will stand up to you," Orban told the European lawmakers.
Last December, Article 7 was triggered against Poland, marking the first time the union used its 'nuclear option.' Proceedings were opened over controversial judiciary reform in the country which condemned the EU Parliament's decision as "politically motivated." At the time, Hungary strongly backed Poland, vowing to erect an "insurmountable roadblock" against the motion by vetoing it in the European Council.
Both Hungary and Poland, as well as the Czech Republic, have been at odds with European bureaucrats and pro-immigration politicians from other EU member states over the past few years. The countries have been advocating their right to protect their borders and repeatedly rejected calls for taking in a "fair" share of migrants.
Following the election victory of euroskeptic and anti-establishment parties in Italy, Rome has also joined in. Hungary's Orban praised the actions of Italy's Interior Minister Matteo Salvini, calling him a "hero" and his "companion of destiny."
Like this story? Share it with a friend!
You can share this story on social media: