Elephants & giraffes caught in snow as South African spring takes unusual turn (PHOTOS, VIDEOS)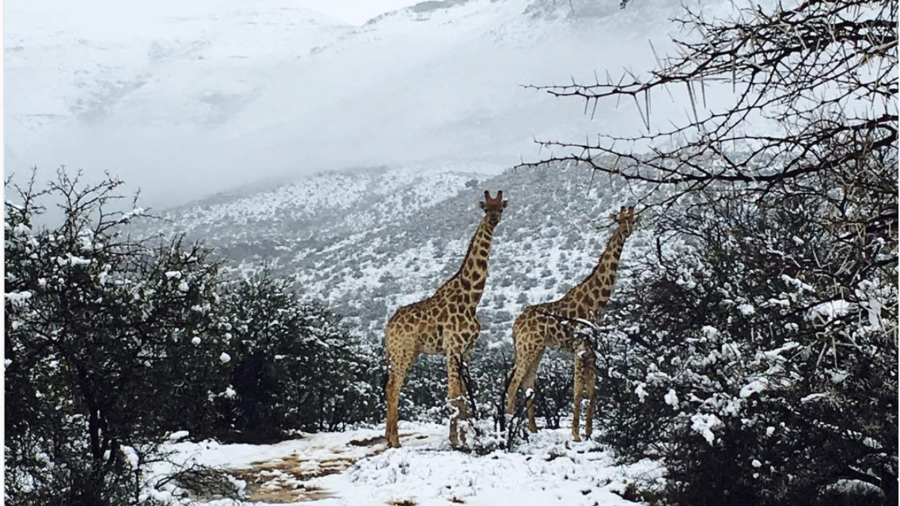 Winter had apparently come and gone for South Africa's Western Cape and residents were looking forward to enjoying the warmer spring weather. Mother nature had different ideas this past weekend, however.
Thanks to an intense cold snap which gripped much of South Africa's Cape region, some substantial snowfalls were recorded to mark the onset of spring in a somewhat unorthodox way. As temperatures dropped Friday, many South Africans shared the stunning scenes on social media, including these Giraffes in the Karoo region of the Cape.
Cape resident Kitty Viljoen also came upon a family of elephants enjoying the snow on the aptly-named Sneeuberg (or Snow Mountain) on the Western Cape.
Somewhat perplexed antelope surrounded by icy vegetation were pictured on the Glen Harry Game reserve in Graaff-Reinet on the Eastern Cape.
The majority of the Cape and the Kwazulu-Natal region witnessed snowfall across the weekend, with some areas covered in up to 25cm (10 inches) over the course of three days. Thankfully, several amateur drone operators were on hand to capture the full beauty of the unusually-timed snowfalls.
While snowfalls such as these are somewhat common in these parts of South Africa, technically this is now spring. Many were caught off guard but managed to enjoy themselves in spite of sporadic road closures.
#sapsEC Warning: Both Wapadsberg R61 between Cradock and Graaff Reinet and Lootsberg N9 Middelburg to Graaff Reinet have now been closed due to snow and hazardous road conditions. SW pic.twitter.com/ou6t6NlpOh

— SA Police Service (@SAPoliceService) September 8, 2018
Like this story? Share it with a friend!