Shocking VIDEO shows man stabbing random passerby at Moscow rail station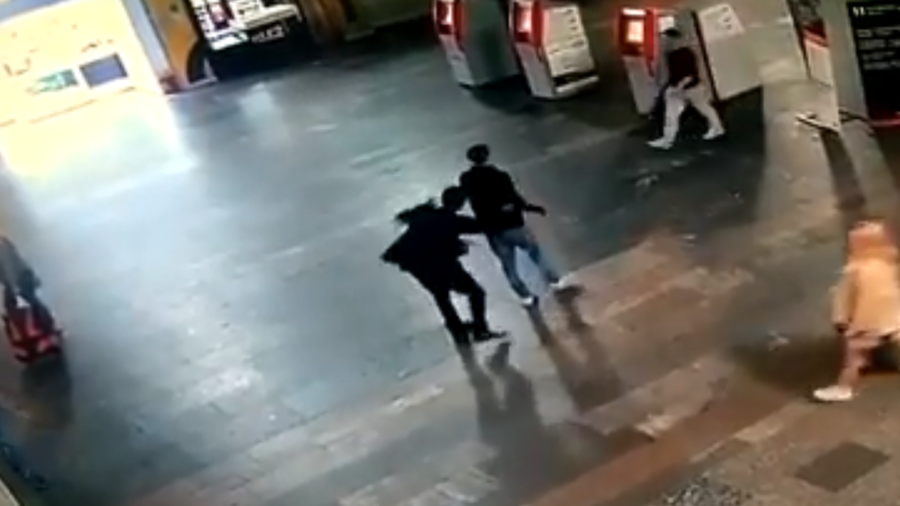 A chilling CCTV video captures a former felon ruthlessly stabbing a random man at Moscow's Kursky railway station before quickly fleeing the scene.
The footage starts with a man casually walking around the rail station hallway, while an assailant, dressed all in black, quickly approaches him from behind. The attacker then delivers a sudden blow to the unsuspecting victim, visibly catching him completely off guard.
Возбуждено уголовное дело в отношении 55-летнего ранее судимого мужчины, обвиняемого в покушении на убийство двух человек на Курском вокзале в Москве. Следователи также дадут правовую оценку действиям работников службы безопасности и сотрудников полиции, дежуривших на вокзале pic.twitter.com/WdwFRqziO7

— Следственный комитет (@sledcom_rf) 10 сентября 2018 г.
The attacker then quickly makes his way to the exit, chased by two security guards. The wounded man is seen getting up and running away. Reports said the attacker also managed to stab a woman who was working behind the counter at a shop nearby.
The assailant was then apprehended by the police. He has been identified as a 55-year-old former convict, and a criminal case has been launched against him, the Investigative Committee said in a statement. It confirmed there were two victims in the attack.
READ MORE: Scissors-wielding man stabs postman, attacks passersby in Paris – reports
Both victims were hospitalized in serious condition. The man was rushed to the emergency room while the woman is in surgery, medics told RIA Novosti.
Like this story? Share it with a friend!
You can share this story on social media: