'Snow Dragon': China launches first domestically built Arctic icebreaker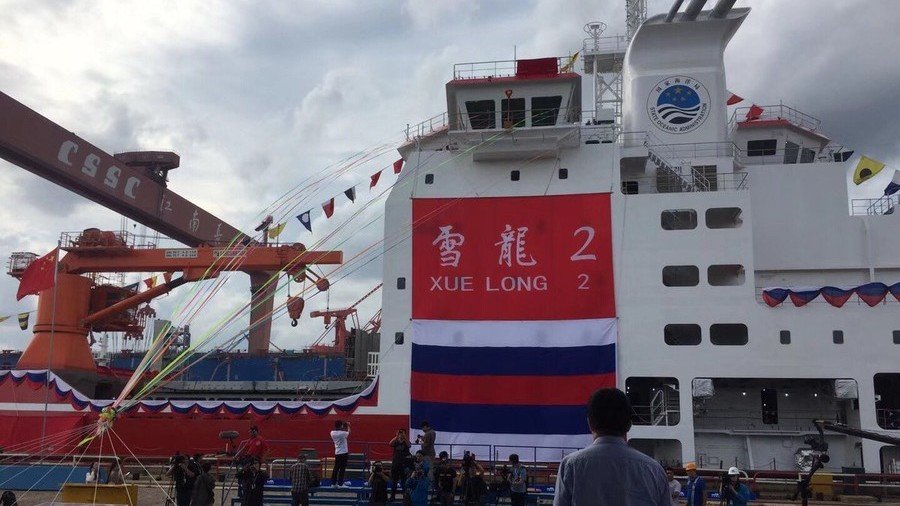 Beijing is launching its first domestically built icebreaking research ship MV 'Xue Long 2' ('Snow Dragon') on Monday. China hopes the new vessel will give it an edge in competition with other superpowers in the Arctic.
Once launched, the ship will undergo sea trials and will officially enter service in the second half of 2019, China Daily reported on Sunday. The vessel was built by Shanghai-based Jiangnan Shipyard Group, making it the first ship of its kind to be built by a Chinese company. Beijing's sole currently active icebreaker, the first 'Xue Long,' was made in Ukraine in the early 1990s.
The new icebreaker is designed to voyage on 60-day expeditions, operating in temperatures as low as minus 30 degrees Celsius and breaking 1.5-meter-thick ice at speeds of 2-3 knots. During its missions, 'Xue Long 2' will conduct complex surveys and monitoring, ranging from atmospheric research to seabed studies.
Wu Gang at the Shanghai Marine Design and Research Institute, who is the ship's chief designer, told China Daily that engineers are already working on another, "next-generation" icebreaker, capable of breaking ice that is three-meters thick in minus 45 degrees Celsius.
China's aim to construct more icebreakers comes at a time of renewed global competition in the Arctic, as major players like Russia and the US have announced plans to boost their military presence there, and bolster economic exploration of the resource-rich polar region. The fact that the Arctic has become a point of interest for a "whole number of nations" could lead to "an increase in the conflict potential in the region," Russia's Defense Minister Sergey Shoigu said last month.
Beijing unveiled its new Arctic Policy in January, proclaiming itself a "Near-Arctic State" with hopes of tying the region with its global shipping routes strategy, the Belt and Road Initiate. To achieve this, China had promised to "bring opportunities for parties concerned to jointly build a 'Polar Silk Road.'"
Chinese officials had also stated in the policy white paper that Beijing is "actively involved" in various types of research in the region, and will "facilitate connectivity and sustainable economic and social development of the Arctic."
Think your friends would be interested? Share this story!
You can share this story on social media: