Protect Assange from US extradition, Amnesty International tells UK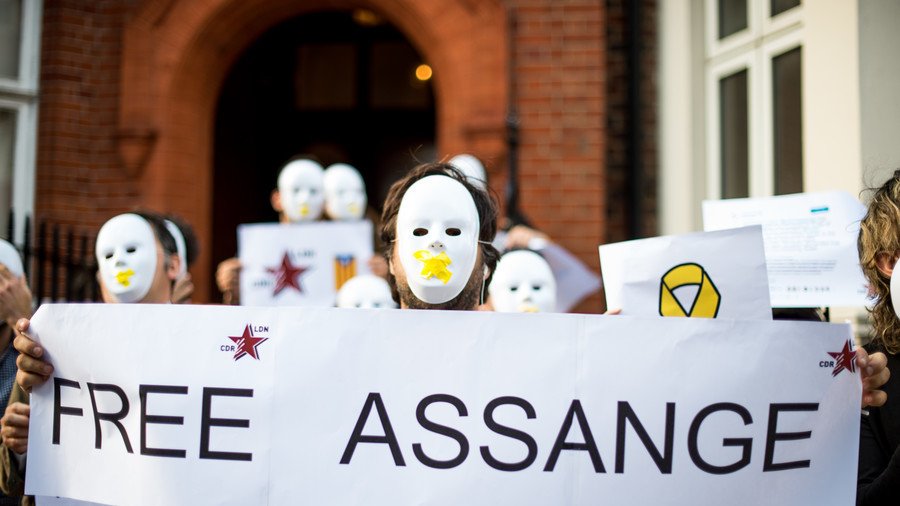 Amnesty International has backed calls to not extradite WikiLeaks founder Julian Assange to the United States, arguing that this would put his human rights at serious risk of abuse.
The statement, issued Friday by the group's Australian branch, backed Assange's lawyers and supporters' claim that if he is sent to the US, "he would face a real risk of serious human rights violations due to his work with WikiLeaks."
Amnesty said that Assange could face several human rights violations in the event that he is extradited to the US, including: violation of his right to freedom of expression; right to liberty; right to life if the death penalty were sought; and being held in conditions that would violate his right to humane treatment.
While Amnesty said it took "no position" on Ecuador's decision to grant, and then withdraw, Assange's diplomatic asylum, it did call on the UK government to recognize the "need for international protection vis-a-vis the USA" in relation to the whistleblower's case.
Amnesty has joined several other humanitarian organizations by backing Assange and denouncing any extradition attempt. These include the UN Human Rights office, Human Rights Watch, and the Inter-American Court of Human Rights.
As editor of WikiLeaks, Assange is wanted in the US for his part in facilitating the leaking of sensitive military documents by former US soldier Chelsea Manning. Assange has been resident in the Ecuadorian embassy in London since 2012.
The leaks in question included war logs of the US military's campaigns in Afghanistan and Iraq, as well as a video titled "Collateral Murder," which was a recording of a US air mission in Iraq that resulted in the death of two journalists and wounded two children.
Assange was granted asylum by Quito after an arrest warrant was issued by Sweden for alleged sexual assault in the country, which he feared would then see him extradited to the US. So far, the UK has received no official extradition request from Washington.
Last month, calls were made for Assange to be granted immunity by the US, in order to testify before the Senate Intelligence Committee, which is investigating alleged Russian interference in the 2016 election.
Supporting an amnesty, Kentucky Senator Rand Paul said Assange "has information that is probably pertinent to the hacking of the Democratic emails that would be nice to hear."
However, he didn't think Assange would agree to testify unless he was granted "some type of immunity from prosecution."
Think your friends would be interested? Share this story!
You can share this story on social media: