Arming of Kurds by US in Syria a major concern for Turkey – Erdogan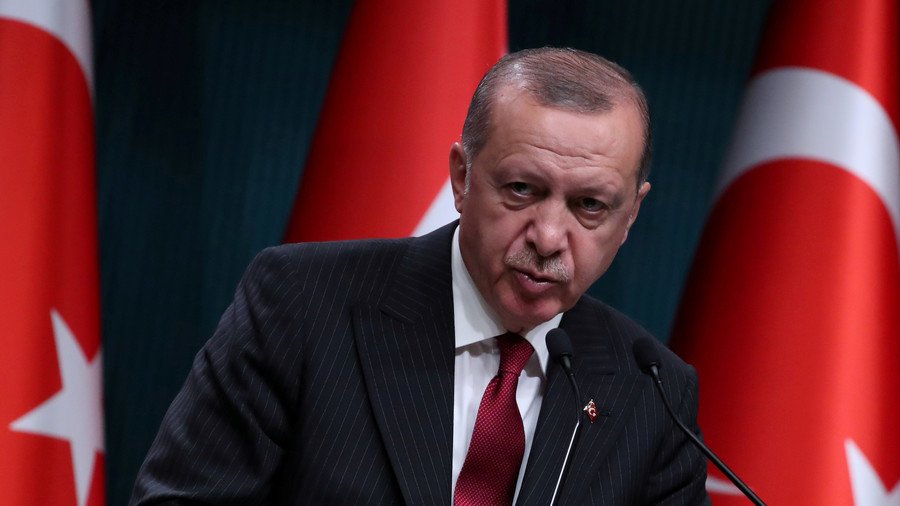 The Turkish president has told his Russian and Iranian counterparts that the arming of Kurdish militias in northern Syria is a major cause of instability, which requires attention on par with the situation in Idlib.
He added that the Tehran summit may be the last chance to resolve the situation in Syria's Idlib in a peaceful manner.
Turkey's Recep Tayyip Erdogan and Russia's Vladimir Putin are visiting Tehran for tri-party talks with Hassan Rouhani. The leaders of Iran and Turkey disagreed on priorities for the three nations, as they seek an end to the seven-year-old war in Syria.
Rouhani argued that the continued presence of jihadist groups in the Idlib governorate – the last remaining stronghold of radical Islamists in Syria – warrants a major offensive operation there. However, Erdogan reiterated his government's concerns about potential loss of civilian lives and a mass exodus of refugees from the area into Turkey, which could be triggered by such a military operation.
He then suggested that the three nations should pay attention to Kurdish militias in the northeast of Syria, and the continued supply of arms to those groups by the United States. Erdogan argued that this poses a major threat to his country's national security. Ankara considers Syrian Kurds an extension of its domestic Worker's Party of Kurdistan, which is deemed to be a terrorist organization by the Turkish government.
"East of the River Euphrates, events are happening that concern us. Terrorists are trying to establish a foothold there with the help of foreign powers and stay there forever. We are very concerned with the attempts by the United States to empower and support those terrorist organizations," the Turkish president said.
He added the threat posed by Kurdish militias requires Turkey to maintain its military presence in Northern Syria.
"We will in no way allow terrorist elements to gain strength near the border of our country. We will continue to take all necessary decisions as warranted by the sources and strength of the threat to us," he said.
American support for the Kurds in Syria is one of several major points of contention between Turkey and the US, which have soured the relations between the two NATO allies in the past several years.
Think your friends would be interested? Share this story!
You can share this story on social media: