Series of strong quakes shake Panama, Ecuador & Chile (VIDEOS)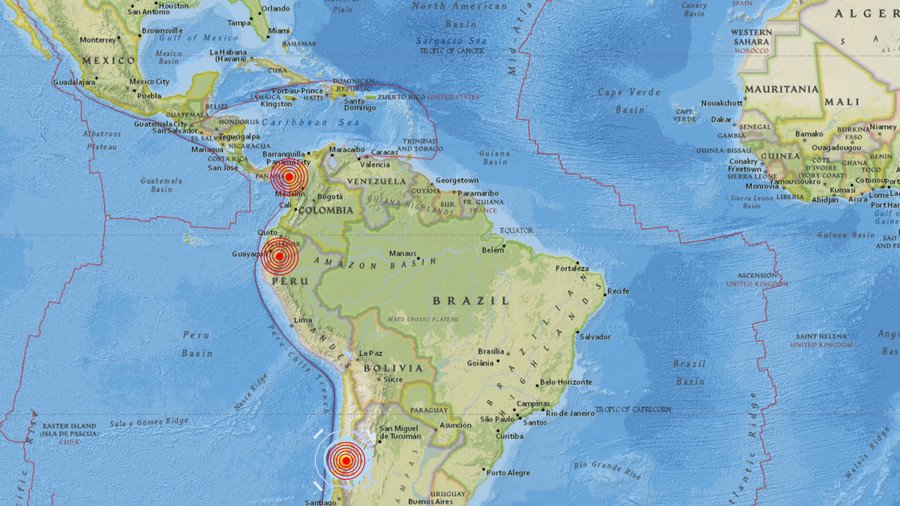 A series of powerful earthquakes has struck the South American east coast, with Panama, Chile and Ecuador all suffering jolts of between 5.6 and 6.2 magnitude within less than an hour of each other.
Panama was hit by a 5.6-magnitude earthquake at 1:47am GMT. According to the US Geological Survey, its epicenter was located at a depths of 10km, some 15km from the small town of Yaviza.
Less than 30 minutes later, at 2:12am GMT, a powerful 6.2-magnitude jolt hit central Ecuador, some 94km (58 miles) south of the city of Ambato at a depth of 112km (69 miles).
So far, at least one person has been injured, Ecuador's authorities said, noting some damage to homes and reported landslides on roads. Power outages are also being reported. The jolts were felt as far away as the capital, Quito, and the city of Guayaquil. According to the Ministry of Risk Management, the jolts were felt the strongest in Cumanda, Chimborazo province.
According to the Oceanographic Institute, the characteristics of the earthquake did not meet the necessary conditions to generate a tsunami. The country's president, Lenin Moreno, expressed solidarity with the people in affected regions, noting that regional emergency crews had been activated.
At around 2:39am GMT, a third 5.8-magnitude quake rocked the central part of Chile, with its epicenter located near the border with Argentina, some 86km east of the city of Vallenar.
If you like this story, share it with a friend!
You can share this story on social media: