500 migrants moved from French camp infamous for riots & clashes with police (PHOTOS, VIDEO)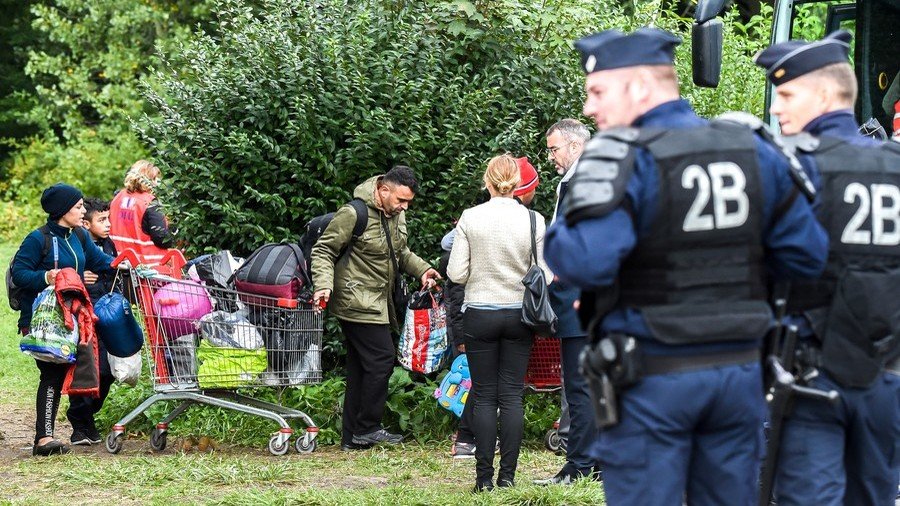 Up to 500 migrants have been cleared from a camp, near the port city of Dunkirk in France, notorious for internal gangs and clashes with police. Officials say it was part of efforts to prevent the spread of "shantytowns."
As many as 200 officers oversaw the operation on Thursday, which took place at the camp in Grande-Synthe, located just outside the city, French media reports.
Opened on March 7, 2016, the French government expressed its desire to remove migrants from the camp in April of last year, after residents clashed with each other in a row over the allocation of bracelets that allowed access to the camp. Some migrants also demanded "ransoms" and "loans" for use of the camp's facilities by other residents, and "restricted access" to showers.
Built by the charity Doctors Without Borders (MSF), it was the first French camp to meet the standards of the United Nations High Commissioner on Refugees. At its height, it housed almost 1,500 people.
At the time of last year's violence, the mayor of Grande-Synthe, Damien Careme, disagreed with plans to close the camp, instead advocating its size be downsized to 700 residents.
Prior to this week's move, 800 remained living at the site, with 95 percent comprised of Iraqi Kurds, according to municipal estimates.
The early morning operation went smoothly, regional government official Eric Etienne told AFP. Etienne added that the move reflected the government's commitment not to allow new "shantytowns" develop along France's northern coast.
534 migrants évacués aujourd'hui du camp de Grande-Synthe. Opération de mise à l'abris quasiment terminée. Une vingtaine de migrants toujours sur zone. pic.twitter.com/ZX0akQogKK

— LavenneLaura (@LauraLavenne) September 6, 2018
The heavy police presence at the Grande-Synthe camp was part of efforts to deter the growth of the site as migrants congregated there before making attempts to stow themselves on trucks and ferries destined for the UK.
AFP footage of the clearance shows officers and immigration officials overseeing migrants putting belongings on buses before boarding. Those evacuated on Tuesday will be offered the chance to apply for asylum in France or be brought to police centres for ID checks.
Previous camps like the "Jungle" site located near the port of Calais hosted as many as 10,000 migrants before being cleared and razed in 2016. Last October, fierce clashes erupted between migrants and police, who came to demolish the camp.
Last month, French lawmakers passed new legislation to accelerate asylum procedures by cutting the maximum processing time, after arriving in France, from the current 120 days to 90.
Think your friends would be interested? Share this story!
You can share this story on social media: