'I would join protests if I wasn't minister': Merkel interior chief Seehofer on Chemnitz unrest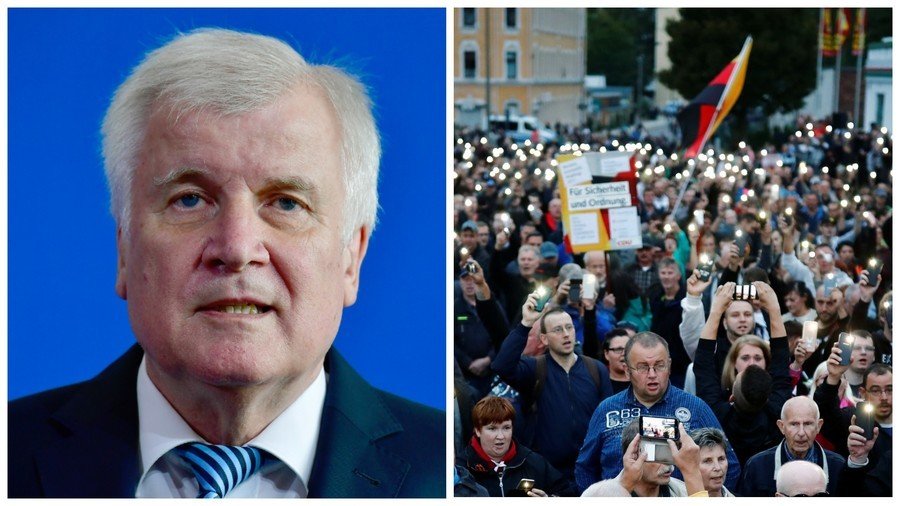 Chancellor Angela Merkel's interior minister has said he would have taken to the streets to protest the killing of a German man in Chemnitz if he wasn't a minister – and has branded immigration the "mother of all problems."
Leader of the CSU – the Bavarian sister party of Angela Merkel's conservative CDU – Horst Seehofer has spoken out about massive riots in the city of Chemnitz, where a German man was killed during a brawl involving asylum seekers. Commenting on the mayhem that later gripped the city, the interior minister said he would have joined in the protests – had circumstances been different.
"If I wasn't a minister, I would've taken to the streets as a citizen, but of course, not with the radicals," he told Rheinische Post newspaper on Thursday. He added that he understands why there is so much outrage in society over the killing.
In an apparent bid to tone down his remarks, Seehofer added that there should be "zero tolerance towards those that use these incidents to incite violence or even use force, including against the police." According to him, people who perform the Hitler salute – like some of the far-right protesters in Chemnitz – should be prosecuted and that the CSU party was not blind "in the right eye."
Nevertheless, the issue of immigration is the "mother of all political problems" gripping the country, Seehofer contended. "Many people now link their social concerns to the migration issue," he argued, adding that if the ruling coalition fails to fix the refugee policy, it will surely lose popular support.
"Even now in Saxony, you cannot imagine a [state] government without AfD or Left Party. That's unacceptable, we do not want these forces in any government," the minister stated.
The public unrest in Chemnitz – home to around 243,000 people – began last week following the stabbing of a 35-year-old German man, known as Daniel H. Two asylum seekers, said to be from Syria and Iraq, were detained and charged with manslaughter.
The rallies were kick-started after local right-wing football hooligan group Chaotic Chemnitz called on their followers to take to the streets. The protests were soon joined by other right-wing groups, including AfD (Alternative for Germany), anti-Islam PEGIDA, and the radical group For Chemnitz.
While some protesters were carrying posters depicting victims of crime allegedly committed by migrants, others were caught assaulting bystanders who they considered to be foreigners. On Saturday, Chemnitz saw right-wing protesters assaulting police, as well as stand-offs between anti-migrant activists and anti-fascist counter-protesters. Some 18 people were injured, including police, during the skirmishes.
High-profile German officials faced criticism for seemingly staying silent as the events in Chemnitz unfolded. Seehofer himself had offered his condolences to the family of Daniel H. three days after protests over the man's stabbing began.
Subscribe to RT newsletter to get stories the mainstream media won't tell you.
You can share this story on social media: