Ukraine's controversial parliament speaker to be sued after calling Hitler 'biggest democrat'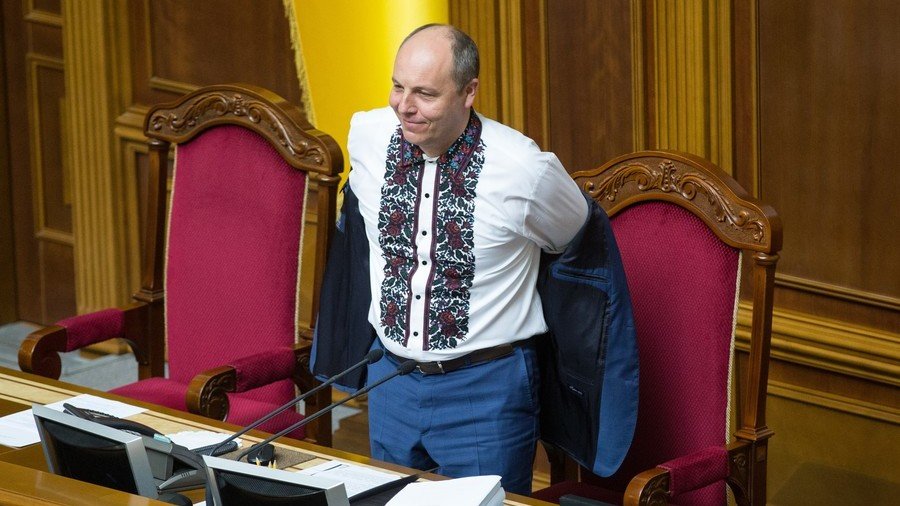 Ukraine's parliament speaker may end up in court over a controversial remark about Adolf Hitler. An MP intends to sue him for saying the Nazi leader was "the biggest man to practice direct democracy."
Andrey Parubiy sparked a Nazi-related controversy on Tuesday when he appeared on a political talk show on ICTV. Discussing the national law on referenda, he said he was a "great supporter of direct democracy," which he "studied on a scientific level."
Apparently based on his research, he added that "the biggest man who practiced direct democracy was Adolf [Hitler] in the 1930s. We should remember that too." Parubiy said that at the time it "was one of the main ways… to manipulate."
Parubiy would not elaborate on what exact actions of the Nazi party he was referring to. Perhaps he meant the 1934 German referendum – which merged the offices of the president and the chancellor, making Hitler the undisputed dictator. Voter intimidation, fraud, and other methods were widely used to secure a landslide victory of over 88 percent.
The apparent implication that Hitler was a prominent figure in developing democratic institutions angered some people in Ukraine, including MP Vadim Rabinovich, who said on Wednesday he was taking the speaker to court for his remarks and expected Parubiy to resign.
"I am suing Parubiy for propaganda of fascism, which is banned in our country. Second, I am calling today on the embassies of each and every European [nation], first of all Germany, asking them to assess the actions of our government and Parubiy," he said in a statement.
"Third, I believe [he] should resign after offering an apology to the people."
He further denounced "fascists and those who propagandize Adolf Hitler in a country where [he] destroyed millions of people."
The Ukrainian parliament speaker is no stranger to controversy. At the start of his political career, he was the unapologetic leader of an ultra-nationalist party – the Social-National Party of Ukraine (SNPU), which he founded with another ultranationalist, Oleg Tyagnibok.
The SNPU has been described as "a fascist party styled on Hitler's Nazis" by some Western media, which particularly drew attention to the fact that even its name is "an intentional reference to Adolf Hitler's National Socialist party."
The SNPU logo was also apparently styled after the Nazis' Wolfsangel. The far-right party later rebranded itself as the All-Ukrainian Union 'Svoboda' (Freedom) and changed its logo, but Parubiy had already left it by that time.
Parubiy rose to his current position thanks to the role he played during the 2014 mass protests and armed coup in Ukraine, when he held the self-proclaimed position of "Commandant of the Maidan" in charge of protest security.
Some critics say he is personally responsible for the mass killings in central Kiev in February 2014, which were the tipping point of the protests leading to the ouster of Ukraine's elected president. The snipers who began the massacre fired from protester-controlled buildings and would have needed to be let in by Parubiy's people.
Think your friends would be interested? Share this story!
Subscribe to RT newsletter to get stories the mainstream media won't tell you.
You can share this story on social media: