Former Ukrainian neo-Nazi leader speaks at NATO think tank event as it laments rise of right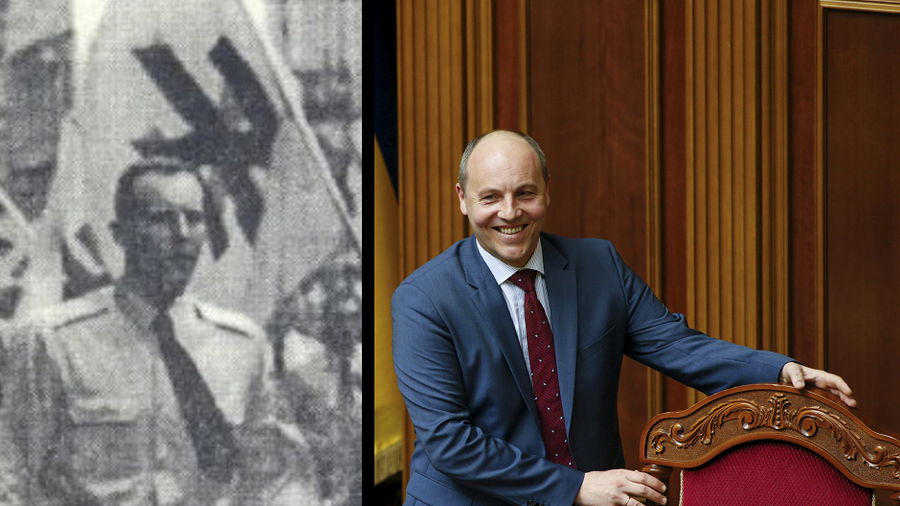 The Atlantic Council hosted a top Ukrainian official with deep ties to neo-Nazi groups days after he lamented the rise of far-right violence in the country, underlining how the NATO-funded think tank continues to enable Kiev.
Andriy Parubiy, chairman of Ukraine's parliament, spoke at an Atlantic Council event in Washington, DC last week entitled "The Frontlines of Freedom: A Conversation with the Speakers of Georgia, Moldova, and Ukraine."
During the panel discussion, Parubiy stated unequivocally that Russian President Vladimir Putin "has challenged the whole civilized world" and that Ukrainian soldiers were "the shield of Europe." He also warned that Moscow was bombarding the Western world with devious disinformation. "This war is for hearts and minds of people, tanks are coming later," Parubiy said.
Curiously, the Atlantic Council failed to mention that its honored guest was the unapologetic leader of a neo-Nazi party – the Social-National Party of Ukraine – before assuming his role as head of the Verkhovna Rada in 2016.
According to UK's Channel 4, the Social-National Party was "a fascist party styled on Hitler's Nazis, with membership restricted to ethnic Ukrainians." Der Spiegel reported that the party's name was "an intentional reference to Adolf Hitler's National Socialist party," and that the extremist organization had an openly anti-Semitic platform.
In 2004, the far-right party later rebranded itself as "Svoboda," replacing its neo-Nazi Wolfsangel logo with something more palatable – a fist with three raised fingers. But according to The Atlantic magazine, the change was largely cosmetic.
"Svoboda's positions are somewhat at odds with the EU's ideals of tolerance and multiculturalism, to put it mildly," the magazine wrote in December 2013. "It is a driving force behind Ukraine's anti-gay rights movement; the party's platform supports distributing government positions to various ethnicities according to their percentage makeup of the population; and, despite recent claims to the contrary, it remains, at least among its leadership, a deeply anti-Semitic organization."
Incredibly, a week before Parubiy was fawned over by NATO-funded "policy experts" in Washington, the Atlantic Council condemned the rise of far-right violence in Ukraine, publishing an article that accused Ukrainian authorities of "accepting or even encouraging the increasing lawlessness of far-right groups willing to use violence against those they don't like." One of these neo-Nazi groups had even received government funding for "education projects" in the country. "It sounds like the stuff of Kremlin propaganda, but it's not," the Atlantic Council article weeped.
And yet, the Atlantic Council invited Parubiy – whose neo-Nazi party once boasted "we are the last hope of the white race" – to speak about protecting European values from Russian barbarism. Sounds like the Atlantic Council is really losing sleep over all that far-right violence in Ukraine.
Think your friends would be interested? Share this story!
You can share this story on social media: