Familiar faces? Twitter compares 'GRU Novichok assassins' to Soviets in Schwarzenegger action flick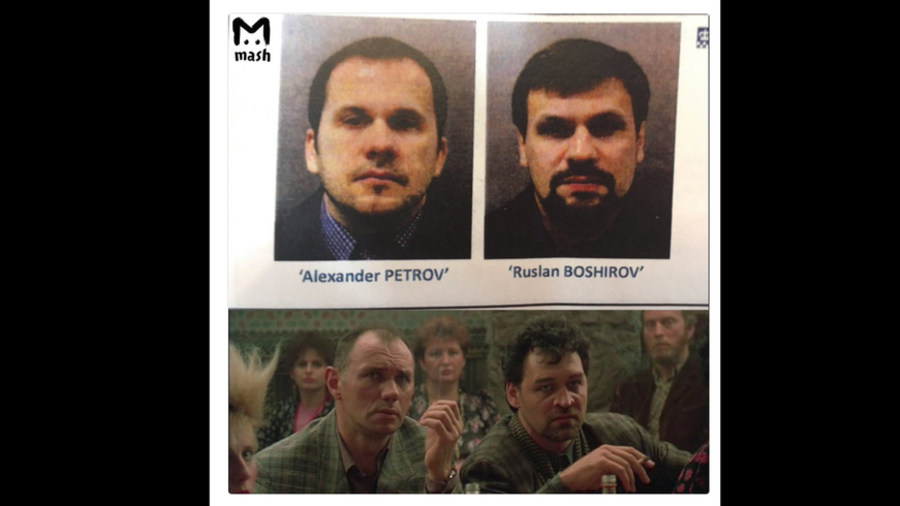 The latest plot twist in the Salisbury poisoning case has evoked fond memories of trashy '80s action films, with users on Twitter comparing photos of the just-accused pair of "GRU agents" to the Soviet villains in 'Red Heat.'
The photographs of 'Ruslan Boshirov' and 'Alexander Petrov' – the two men now accused by the UK of poisoning ex-Russian double agent Sergei Skripal and his daughter Yulia in Salisbury in March – reminded some observant Twitter users of the Georgian drug kingpin and his associate from the 1988 action film.
Others tried to imagine what the two ruthless Russian military intelligence agents would look like when dressed in their official Novichok uniforms.
The names of the two suspects are also somewhat noteworthy – mostly for their total lack of noteworthiness.
"Worth noting that both names, 'Alexander Petrov' and 'Ruslan Boshirov' are 'John Smith' equivalents in Russian & Russian Muslim world. The 12 Russians indicted by Mueller in July for DNC hacking also had common, could-be-anybody names," Amie Ferris-Rotman, the Washington Post's Moscow correspondent, tweeted.
Others observed that a search for 'Alexander Petrov' returns more than 70,000 results on Russian social media site VKontakte.
The Salisbury case has always had an oddly theatrical ring to it. The very term 'Novichok' was popularized by British-American spy drama Strike Back.
It seems that with all things Russia-related, media reports based on unproven government claims imitate art.
Like this story? Share it with a friend!
You can share this story on social media: