Counter-terror police deployed to Emirates plane at JFK as passengers on board fall ill (PHOTOS)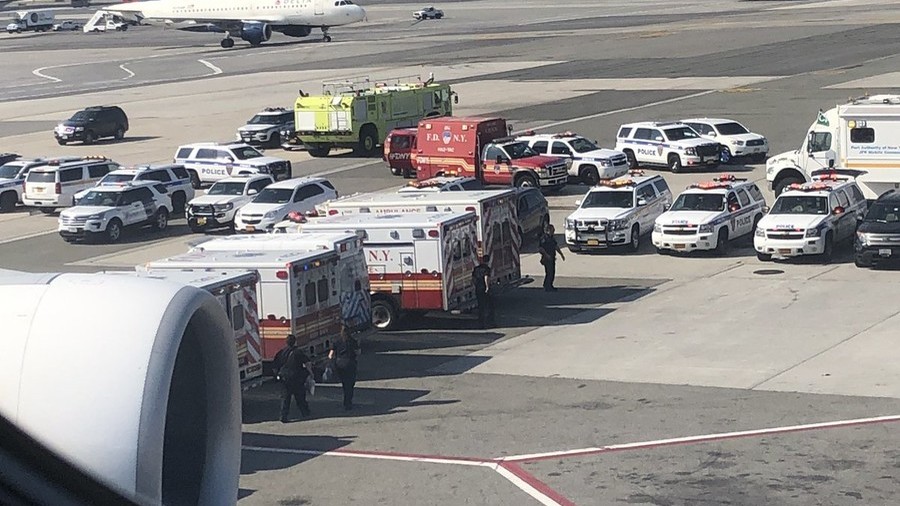 New York counter-terrorism police were deployed to "monitor" the quarantine of an Emirates airplane at JFK airport in New York, after reports said 100 people fell ill during a flight from Dubai.
Emirates Airline Flight EK203 touched down in New York around 9am ET Wednesday after the pilot contacted air traffic controllers, telling them that many of his 500 passengers appeared to be sick with fevers over 100 degrees Fahrenheit (37.7 C) and several of them were coughing.
The Airbus A380 was met by rows of ambulances and police vehicles from Port Authority Police and the Centers for Disease Control and Prevention (CDC).
Rather than going to a terminal, the aircraft was instead directed to a hard-stand area so that emergency medical response teams could investigate.
NYPD's Counter-Terrorism unit said it was "monitoring" the quarantine in case the incident progressed above a medical situation and that it was working with the Port Authority and federal partners.
Photos, taken by passengers inside the plane, show the flight crew leaving the aircraft. Passenger Larry Coben tweeted: "All we have been told is that some passengers have fallen ill and we should remain in our seats."
He said that he had seen "no evidence of illness," but added that Flight 203 has "two levels".
In a statement, Emirates confirmed that "about 10 passengers" on the Dubai to New York flight had become ill, adding that the appearance of health authorities at the scene was "a precaution."
"All others will disembark shortly. The safety & care of our customers is our first priority," the statement read.
In the last hour, CDC officials boarded the aircraft, allowing passengers to disembark with a CDC disease prevention form and taking their temperatures.
After taking the bus towards the terminal building, Coben reported getting through customs safely and was on his way home commenting, "others are well." However, it remains unknown if that means all of the flight's passengers as no official confirmation has been made.
Think your friends would be interested? Share this story!
You can share this story on social media: