Saudis insist Yemen school bus airstrike was 'legitimate,' question authenticity of photos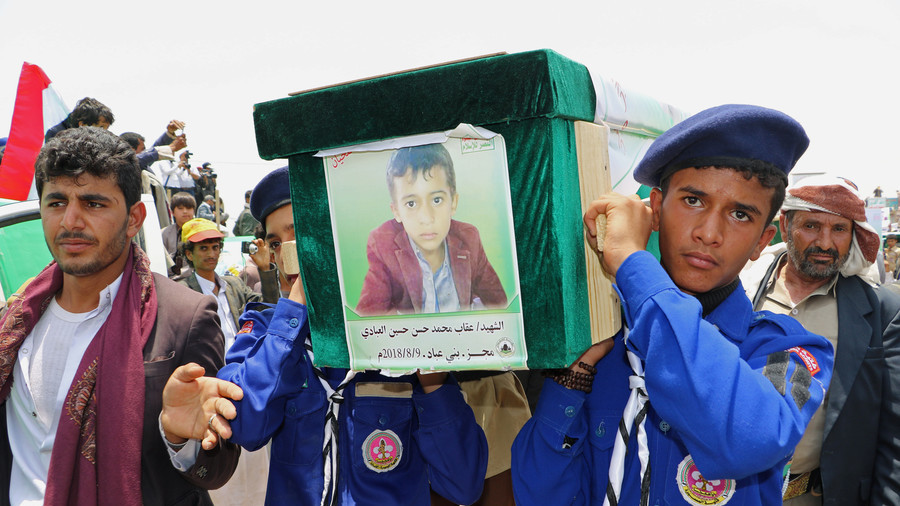 A Saudi-led coalition spokesman has insisted that an airstrike that killed 40 children in Yemen did not hit a school bus, and raised doubts about the authenticity of photos depicting the aftermath of the deadly attack.
The bus attacked on August 9 was "a legitimate target," Colonel Turki al-Maliki, the spokesman for the Saudi-led coalition in Yemen, told CNN on Sunday. He also claimed that the target could not have been a school bus because "there [was] no school at that time when the incident happened."
"We never observed any kids on the bus," al-Maliki said, adding the coalition had targeted "Houthi commanders and some Houthi element fighters in that bus."
Al-Maliki also suggested that video footage and photographs from the scene of the airstrike were untrustworthy, because they may have been taken by "the Houthi" or unidentified sources.
The spokesman's firm denial of wrongdoing comes just a day after a probe conducted by Saudi Arabia and the United Arab Emirates (UAE) concluded that "mistakes" were made while carrying out the airstrike, which killed more than 50 civilians in total. The coalition's investigative body, The Joint Incident Assessment Team (JIAT), also said that those behind the air raid in Saada province should be held accountable. However, a JIAT spokesman clarified that the coalition still believed that the bus was a "military target."
The State Department welcomed the JIAT's report, saying that its findings are an "important first step towards full transparency." The deadly attack has led to closer scrutiny of Washington's role in the ongoing violence in Yemen, after it was revealed that an American-made, 500lb (227kg), laser-guided MK 82 bomb was used in the strike.
Human Rights Watch called the bombing of the school bus an apparent war crime, and urged countries to "immediately halt weapons sales" to Riyadh.
The United States is Saudi Arabia's largest weapons supplier, and the US military has provided intelligence and logistical support for the Kingdom's bombing campaign against Yemen. It was recently revealed that the Pentagon plans to train Saudi military pilots on US soil.
Like this story? Share it with a friend!
You can share this story on social media: