Japan's largest warship trains with US naval strike group in contested South China Sea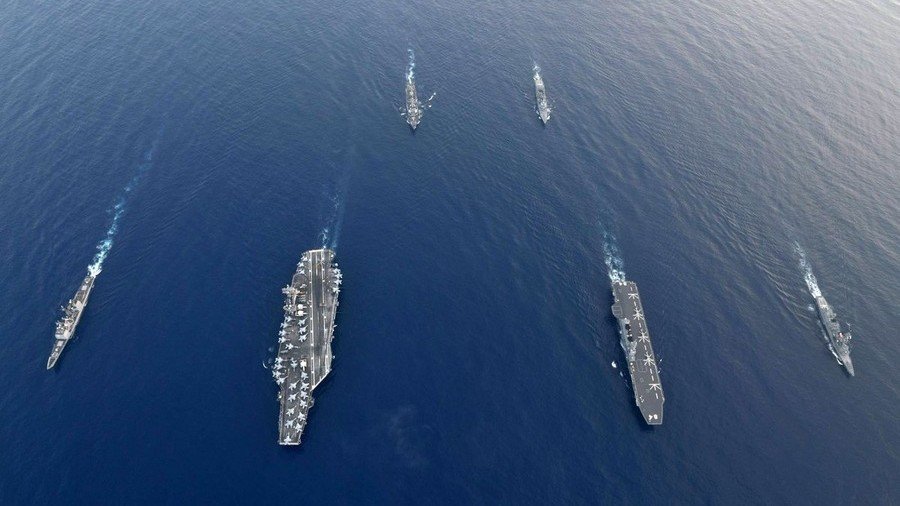 Japan's newest helicopter carrier, Kaga, has trained with the USS Ronald Reagan Strike Group, showcasing its military might during a tour in the contested South China Sea, amid tensions between Beijing and US-backed Tokyo.
The two navies practiced sailing in formation and joint maneuvering on Friday. The ships also trained in replenishment-at-sea procedures. The drill demonstrated how "seamlessly" the allied fleets can operate, explained US Rear Admiral Karl Thomas.
Thomas, who leads the Japan-based Task Force 70, stressed that the joint exercise helped to "further the interoperability" that the allies "have been building for years."
The Japanese flotilla was led by the nation's newest and largest warship Kaga, which joined the navy last spring. The 27,000-ton vessel, capable of carrying up to 14 large helicopters, docked in Alava Wharf in Subic Bay, Philippines, on Saturday, along with two destroyers.
The Philippines is the first stop on the Japanese flotilla's two-month tour in the strategic Indo-Pacific region. The ships are scheduled to visit ports in Indonesia, Singapore, India, and Sri Lanka. The flotilla's deployment is intended to enhance cooperation with partnering navies, while "contributing to peace and stability" in the region, its commander Rear Admiral Tatsuya Fukuda said, as cited by Philippine media.
In recent years, the South China Sea had seen increased tensions between the Chinese and US navies, with both nations accusing each other of military build-up near the disputed Spratly and Paracel Islands. Earlier this year, Washington 'disinvited' China from the joint maritime exercise and sent bombers to fly over the Spratlys, while Beijing redeployed missile systems on the China-controlled Paracel Islands.
Like this story? Share it with a friend!
You can share this story on social media: