Russian cosmonauts use toothbrush & duct tape to patch oxygen leak at ISS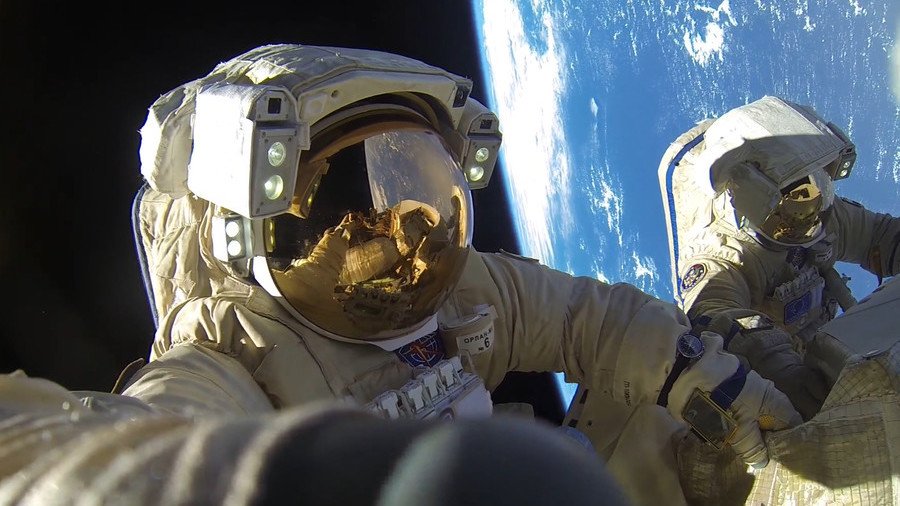 The simplest solutions are often the smartest, as it's been proven by Russian cosmonauts, who used a toothbrush and an endoscope to examine and patch a micro-crack that was leaking oxygen at the International Space Station.
A drop in air pressure was recorded at the ISS on Thursday night, and the crew gathered in the Russian segment of the station as soon as the emergency sounded. They began locking down modules of the station one after another, and were eventually able to detect the source of the problem in the Soyuz spacecraft docked to the ISS.
Two tiny cracks were discovered in the spacecraft's hull and examined by Russian cosmonauts using impromptu means. Using an ordinary toothbrush and an endoscope, they found that only one of the two-millimeter cracks had actually pierced the hull and was leaking air.
Mission Control instructed cosmonauts Oleg Artemyev and Sergei Prokopiev to immediately start patching the leak. But the decision reportedly caused some tension aboard the station, with a source at the Space Center in Houston telling Interfax that the ISS commander, US astronaut Andrew Feustel, disagreed with the plan.
Feustel reportedly wanted to take 24 hours to consider all the possible repair options, since the leak posed no immediate serious threat to the station and the crew. With the Russian cosmonauts eager to fix the cracks, the ISS commander refused to participate in further repairs until NASA and the Russian Space Agency came to an agreement back on Earth.
The Russians were left alone to deal with the leak, and on Thursday night they patched the cracks by filling them with epoxy-based sealant and applying duct tape – both part of the standard repair kit. The air pressure level was restored at the station, while the cosmonauts monitored the crack in the Soyuz every hour to avoid further leakage. Early on Friday, Mission Control advised the cosmonauts to place another patch on the crack, which was swiftly done.
READ MORE: Russia to stop ferrying US astronauts to ISS from April 2019
"The spacecraft and the Russian segment of the ISS are equipped with the necessary repair kit. Such situations are routine," Dmitry Rogozin, Russian Space Agency chief, said, adding that the cosmonauts were "mentally ready to carry out repair works without hesitation." The repairs were "robust" and the station was leak-tight, while the Soyuz craft was also fit to deliver crew members back to Earth as scheduled, Rogozin said.
The Russian cosmonauts plan to apply a third layer of sealing compound on the cracks later on Friday.
If you like this story, share it with a friend!
You can share this story on social media: