22 cars burned in Sweden as country rocked by rising crime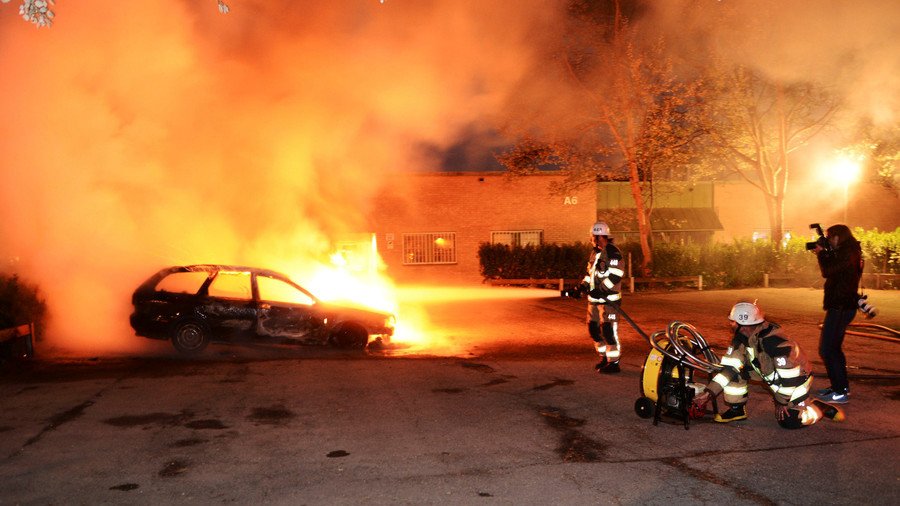 Up to 22 cars were burned or damaged in several fires across southern Sweden on Thursday. It will likely stoke claims that the current socialist government has abjectly failed at tackling the surge in crime.
Police in the southern city of Trollhättan are investigating a fire that left up to ten vehicles damaged, according to local news outlet Aftonbladet. Police and rescue teams were called to the area of the Kronegården at around 3:30 am to tackle a "fully-fledged" fire which had engulfed three cars before spreading to more.
Four out of six cars affected were entirely burnt out, police say. While at around 2am a car was set on fire in Trelleborg, which went on to ravage two other vehicles. And just a few miles away in Trelleborg, in Vellinge, a car was set ablaze while one parked behind it was also damaged.
More vehicles in Helsingborg, Kalmar and Oxie were also either burned out or damaged. It is understood no arrests have been made yet in connection with the attacks.
The incidents occurred despite Swedish Prime Minister Stefan Lofven's stinging remarks, two weeks ago, in the aftermath of a mass arson attack which saw some 80 cars damaged.
It is understood that groups of masked youths are responsible for the fires, which broke out mainly in Sweden's second-largest city of Gothenburg. Cars were also set ablaze in Stockholm, Trollhattan and Falkenberg, as well as Malmo.
Amid public doubts over what action the government has been taking to tackle crime, the PM told Swedes in a radio interview: "Society will always act hard against this and we must continue to do so," before adding his government would do what it takes to "go in hard against this crime."
Yet, the government doesn't seem to have matched its words with deeds - given the multiple fires that rocked the southern area of the country on Thursday.
Like this story? Share it with a friend!
You can share this story on social media: