Kremlin points to 'terrorists in Idlib' when asked about massive naval drill near Syria's shores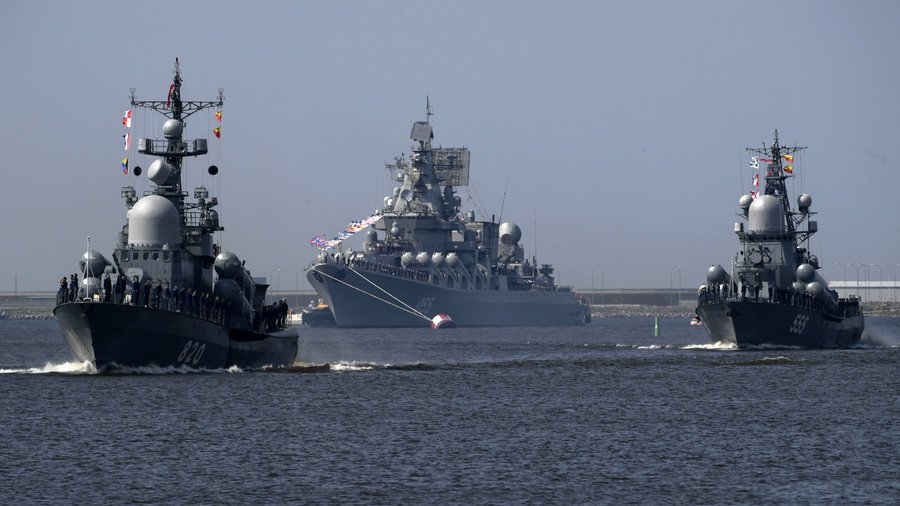 On Saturday, the Russian military will start a week-long exercise in the Mediterranean, involving 25 ships and strategic bombers. The Kremlin agreed the drill may be connected with the situation in Syria's Idlib governorate.
The exercise comes amid high tension in the region, with Moscow claiming that the US is deploying additional military assets towards Syria for a likely missile attack against Syrian government forces. The strike would be conducted under a pretext of a staged chemical weapons attack, the Russian military alleged.
READ MORE: US & allies can have missiles ready to strike Syria within 24 hours – Russian Foreign Ministry
The missile cruiser 'Marshal Ustinov' is the lead ship in the exercise, which will last until September 8, according to the Russian Defense Ministry. Russia's Northern, Baltic, Black Sea and Caspian fleets provided combat and support ships for the war games. The drill will also involve 30 aircraft, including Tu-160 long-range bombers, Tu-142MK and Il-38 anti-submarine planes as well as Su-33 and Su-30SM fighter jets.
When asked whether the situation in Syria's Idlib was among the reasons for ordering such a massive exercise in region, Kremlin spokesman Dmitry Peskov said that Idlib is "a hotbed of terrorism and nothing good may come from it, unless action is taken".
"So additional safety measures there are more than justified," Peskov added.
Think your friends would be interested? Share this story!
You can share this story on social media: