US army accuses RT of 'ridiculous misinformation' over Syria, but not UN or NBC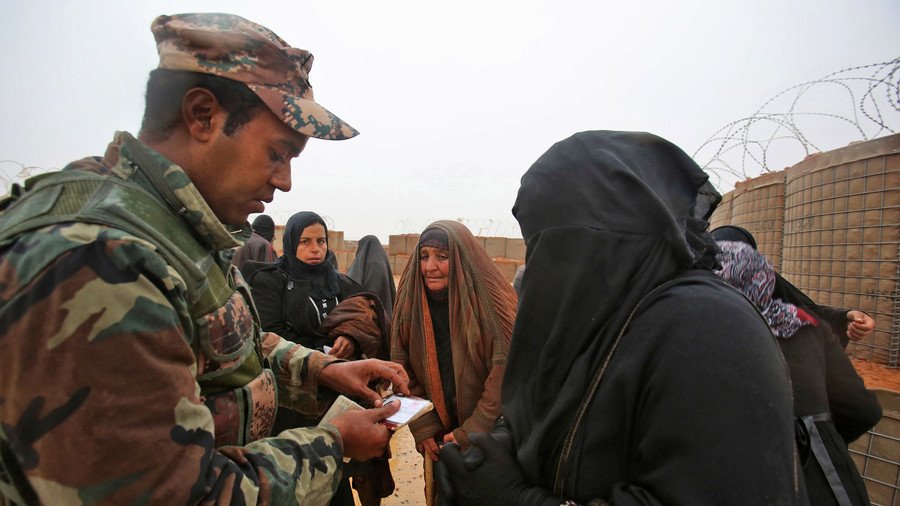 A US Army colonel has accused RT of 'ridiculous misinformation' for reporting a Russian government suggestion that Islamic State is operating inside a US-controlled zone in Syria, despite the UN and NBC reporting the same.
On Thursday, Russian Foreign Ministry spokesperson Maria Zakharova told journalists that Moscow has received information that armed members of Islamic State (IS, formerly ISIS) and the Al-Qaeda proxy group Jabhat al-Nusra had found shelter in the Rukban refugee camp, located in the southwest Al-Tanf region of Syria, and that the US knows the terrorists are there.
Army Colonel Sean Ryan who is the spokesman for Operation Inherent Resolve (OIR), the snappy name for the US-led coalition against IS, took to the one battleground that really matters, Twitter. He accused RT of 'ridiculous misinformation'. It's not entirely clear which part of the report he believes is misinformation; the fact that the Foreign Ministry said the statement in the first place, that terrorists are operating in Rukban, or that the US knows all about it.
If he's got a problem with the information coming from Russia's Foreign Ministry, then he should direct his objections that way. It is generally accepted in the world of journalism that quoting the statement of a government official is not 'misinformation', it's actually just reporting the news. Attempting to undermine good faith reporting, well that actually is 'misinformation'.
More worrying would be if Colonel Ryan is saying the US actually knows nothing about terrorists operating in and around the Rukban refugee camp, because that would make the US military the only organisation in the region that hasn't noticed. That's even more concerning when you consider the stated US goal of being in Syria is to fight IS rebels.
For the benefit of Colonel Ryan, here are a few people who have noticed the slightly dodgy looking gun-toting terrorists who appear to be putting together cells under their noses.
NBC's Bill Neely was given access to the area around the Rukban camp, but he reported that his Jordanian helicopter pilot refused to fly over it "for fear of being shot down by ISIS cells in the camp."
The NBC report goes on to quote the commander of Jordan's army in the area as saying "militants there have whole weapons systems … small arms, RPGs, anti-aircraft." Brigadier General Sami Kafawin describes how the militants "consider the camp a safe haven. We consider it an imminent threat."
Jordan is a US ally at the last time of checking, perhaps Colonel Ryan should phone someone up there.
Earlier this month, the UN named the Rukban refugee camp as being among hotspots ripe for the reemergence of IS. For the sake of Colonel Ryan, he can find a link to the UN report here.
The camp is close to the Jordanian border which was closed because of constant terrorist activity. It doesn't take a genius to work out that terrorists working in such a remote region might see some opportunities in a nearby camp of 80,000 desperate people.
So, what's really going on here? When a report from RT is branded misinformation by a US colonel who is responsible for less-than-transparent operations in a distant part of Syria, readers may be well advised to read the contents of that report, and future reports, very carefully. Serving military leaders are not well known for being open with information. However, it's nice to see that Colonel Ryan is getting some of his news from RT.com.
Publicly criticising outlets like RT has nothing to do with pointing out misinformation, but everything to do with undermining different sources of information which are not singing to your tune.
RT has written to Colonel Ryan in an attempt to clarify his comments, but has not received a reply at the time of writing. It can't be ruled out that he hasn't noticed the email.
Like this story? Share it with a friend!
You can share this story on social media: