'No need for aliens': Iran says it doesn't want foreign ships in Persian Gulf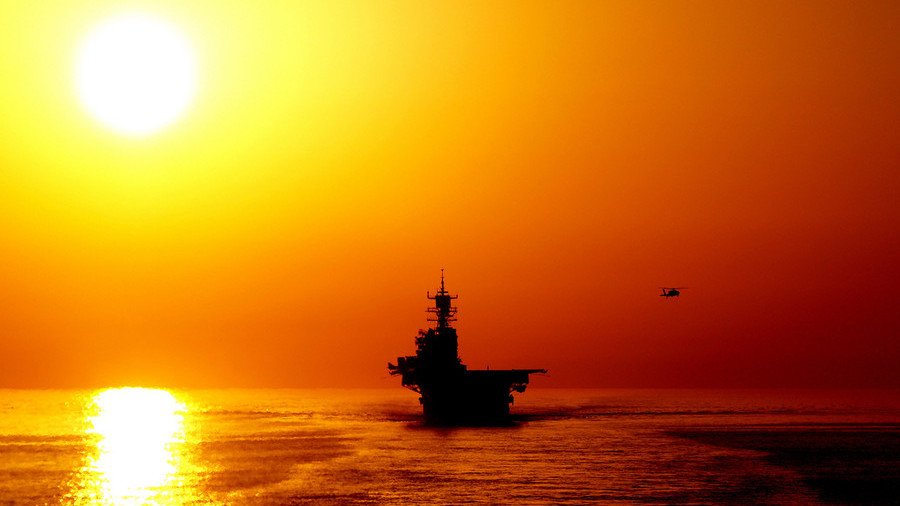 The Iranian navy are "vigilantly controlling" the Persian Gulf and the Strait of Hormuz and there is no need for the naval presence of "alien" countries, Tehran's new naval chief has declared.
"We can ensure the security of the Persian Gulf and there is no need for the presence of aliens like the US and the countries whose home is not in here," Rear Admiral Alireza Tangsiri, head of the naval branch of Iran's Revolutionary Guards Corps (IRGC), said on Monday, according to the Tasnim news agency.
Having "outsiders" operate nuclear-powered ships in the Gulf creates potential environmental problems not just for Iran but its Arab neighbors as well, Tangsiri said. He also accused Iran's enemies of misrepresenting reality "in order to deploy forces to the region and sell their weapons."
Tangsiri's comments were reported with alarm in the US media, complete with warnings that Tehran might decide to close the Strait of Hormuz, a vital shipping lane for Gulf oil exports. Tankers carry 18.5 million barrels of crude oil through the strait every day.
The Iranian admiral's words are guaranteed to ruffle the feathers of the US military, which sees itself as the principal protector of "security and stability" in the Gulf. The US and its Arab allies "stand ready to ensure the freedom of navigation and the free flow of commerce wherever international law allows," Lieutenant Chloe Morgan, spokesperson for the US Naval Forces Central Command, told Fox News on Monday.
The already uneasy relations between Washington and Tehran have plummeted since May, when US President Donald Trump unilaterally withdrew from the 2015 nuclear deal negotiated by his predecessor, Barack Obama. Though European powers, Russia and China have not repudiated the deal, the US has already reimposed some of the sanctions that were suspended and is threatening to punish anyone doing business with Iran.
Tehran has responded by unveiling new homemade weapons, including a fighter jet and a short-range ballistic missile, as well as conducting naval drills with small boats in the Strait of Hormuz.
Earlier this month, Obama's former national security adviser General James Jones described Iran as an "existential threat" to the region, in an interview with the Abu Dhabi newspaper The National.
"I personally would like to see, if they ever did something in the Strait of Hormuz, I would like to see their navy disappear," said Jones, who now serves as the interim chairman of the Atlantic Council think tank.
Like this story? Share it with a friend!
You can share this story on social media: