'Non-negotiable': Iran unveils next-gen homegrown ballistic missile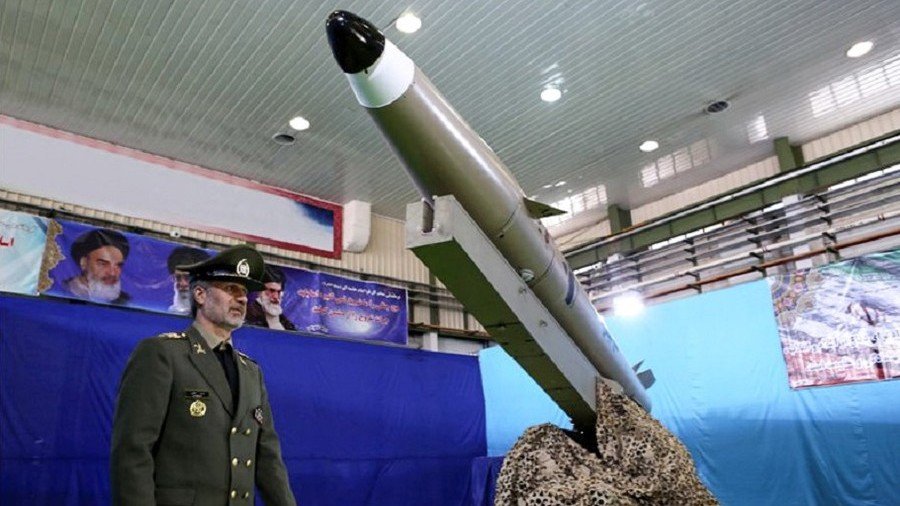 Amid renewed tensions with the US, Iran has unveiled the next generation of its homegrown 'Fateh' short-range ballistic missile on Monday, claiming that it's capable of evading radars and hitting targets with pinpoint accuracy.
The new missile, whose name means 'Conqueror,' boasts a range of between 300 and 500 kilometers. Brigadier General Amir Hatami, Iran's defense minister, described it as agile, able to evade enemy radars, and strike with "pinpoint accuracy,"Tasnim news agency reported.
"As I had promised the Iranian nation, I will spare no effort to boost the country's missile capabilities and we will certainly increase our missile power every day," Hatami said at a ceremony in Tehran on Monday.
US officials told Reuters on Friday that Iran had tested a short-range anti-ship missile during naval drills in the Strait of Hormuz.
The announcement comes shortly after Washington reimposed sanctions against Iran, suspended under the 2015 nuclear deal, also known as JCPOA, preventing Tehran from using the US dollar and restricting imports of cars, metals and minerals.
A new generation of the homegrown "#Fateh" (Conqueror) ballistic missile, which can evade radars and hit targets with pinpoint accuracy was unveiled by Iran's Defense Ministry. pic.twitter.com/mnmv7ZTthi

— Tasnim News Agency (@Tasnimnews_EN) 13 августа 2018 г.
President Donald Trump unilaterally withdrew from the deal in May, and said he would restore the sanctions regime and target Iran with even harsher measures until Tehran ceased "malign activity" in the region. The US demands Iran cease development of ballistic missiles and end support for the government in Syria, the Lebanese-based Hezbollah movement and the Houthi government currently fighting the US-backed, Saudi-led coalition in Yemen.
EU leaders sought to save the nuclear deal by proposing to expand it to cover Tehran's ballistic missile ambitions. Iran's Supreme Leader, Ayatollah Ali Khamenei, said in June that it was "a dream that will never come true."
Even before the US withdrawal from the nuclear deal, Washington sanctioned Iranian military and civilian structures involved in the missile program, claiming it was a violation of UN resolutions.
Hatami, however, said that Iran's missile program was non-negotiable and that the Islamic Republic will never allow outsiders to meddle in its internal affairs. He also praised the Defense Ministry's Aerospace Organization for being able to swiftly turn ideas into products, pointing out that the Fateh missile was designed entirely by Iranian experts.
Commander of Iran's ground forces, Brigadier General Kiomars Heidari, said on Monday that the country has achieved self-sufficiency in all areas of the military industry and was ready to share its defense capabilities with "friendly and brotherly countries."
READ MORE: Europe's plans to curb Iranian missile program 'a dream that will never come true' – Khamenei
Iran is reportedly in possession of more than 1,000 short- and medium-range ballistic missiles. The Shahab-3 missiles are said to have a range of 2,000 kilometers, which gives them the ability to hit southern Europe and Israel.
Think your friends would be interested? Share this story!
You can share this story on social media: